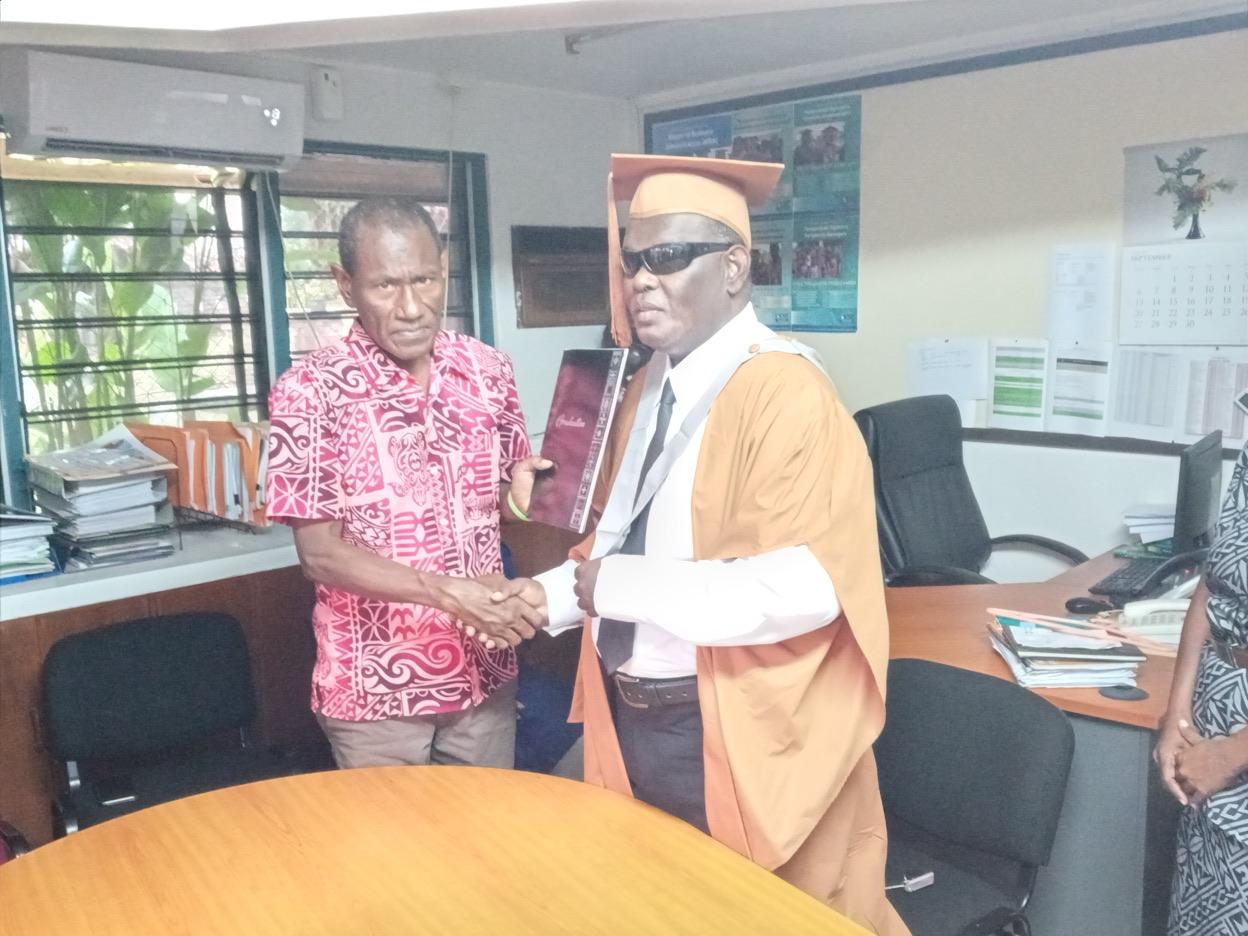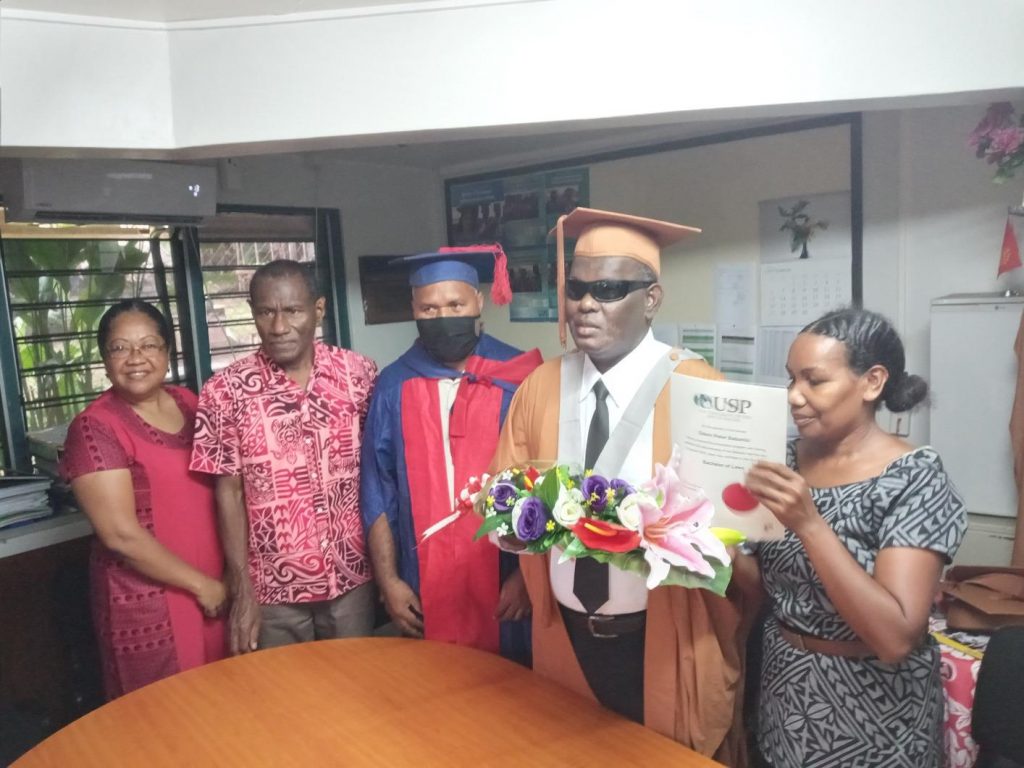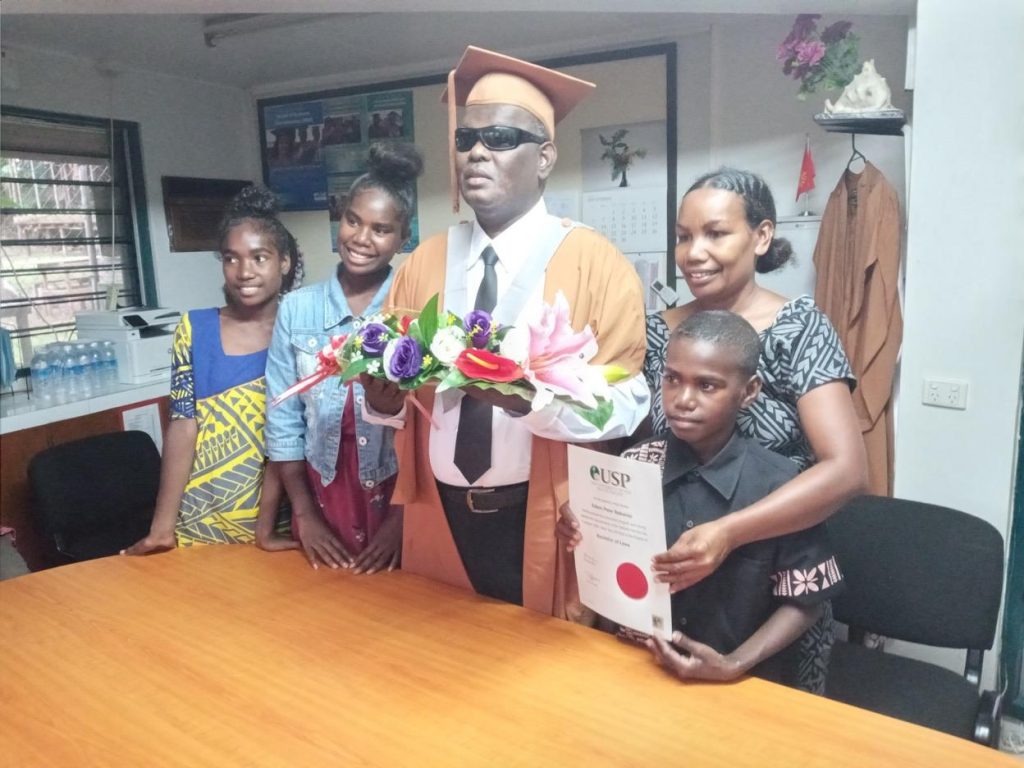 He wears the graduation gown then the motor-board (graduation cap) is placed on his head— before receiving his degree in a moving but short ceremony at the USP Centre, Honiara, as visionary impaired student, Eddie Babanisi, receives his law degree.
Eddie is amongst the first Pacific Islands visionary impaired or blind student to graduate with a law degree, a fulfillment of his dream as he has always dreamt of becoming a lawyer regardless of his disability.
The USP Centre this morning put on a short ceremony to honour Eddie for his splendid achievements with the delivery of his law degree certificate.
Eddie, flanked by his wife, and their three children Leah, Annie and Paul received the certificate from USP rep and respected local lawyer Douglas Hou.
And Eddie could not hide his joy after achieving his dream.
"This is one of the greatest days in my life because of what I have achieved today. Becoming a lawyer has always my dream," said Eddie, 42.
Eddie whose father is from the Shortlands and mother from Makira acknowledges that his parents were big part of his success because they encouraged him to attend school regardless of his disability. Eddie did all of his primary and secondary school in Fiji before he returned to the Solomons in the 1990s before pursuing his law studies.
Asked what motives him to complete his studies, Eddie replies: "perseverance and hard work."
"Every time I have to think about the situation I am in so I have to work extra hard," he said.
He also paid tribute to his wife Rose who has been his strongest supporter.
Eddie also commends on the USP Disability Centre for their support as well as USP and the government for sponsoring him.
Asked how he coped with studies, Eddie explains that he was able to learn with the help of a normal computer using a JAWS programme. Job Access With Speech (JAWS), is a screen reader and reads to a blind person.
"For instance, if I open a word document, JAWS, will read it for me. JAWS also helps me to go into internet and do everything online," he said.
Additionally Eddie says "brail" which is used by most blind people remains his "good old fried".
Eddie started his law degree in 2015 and though the programme usually takes four years he is able to finish this year.
He said unlike the rest of the students who take four courses, those with disability like him are only allowed to take three and that's why it has taken him five years.
"I am glad that I now have the paper in my hand," said Eddie.
Advise
Asked what would be advise to any students pursuing his/her studies, he replies: "If a blind person can achieve what I achieve now. I think everybody can do it. To all my blind friends, your disability should not stop you from achieving your goals."
News@SBMOnline2020
What you think?