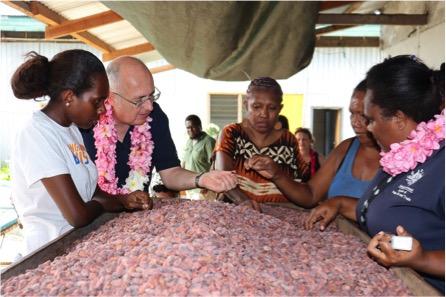 Solomon Islands cocoa company, Cathliro Commodity Development Limited hosted a visit by the Australian High Commissioner Dr Lachlan Strahan last week on 26 November. Dr Strahan's visit was an opportunity for the local company to showcase some of its business successes since receiving funding from the Australian Government initiative, Strongim Bisnis.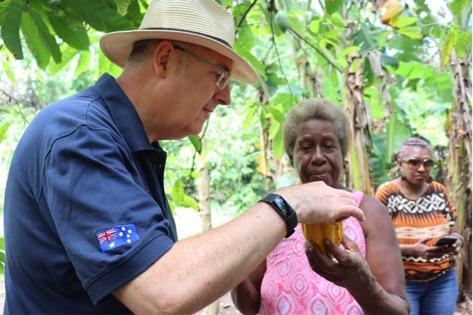 Dr Strahan toured a cocoa plantation in Bakolova village in central Guadalcanal that supplies wet cocoa beans to Cathliro. Plantation Manager Theresa Sirilo spoke about the benefits that her, her family and community had received from Strongim Bisnis' training on farm management, cocoa fermentation, cocoa drying and value-added processing.
Cathliro's founder, Diana Yates, then hosted Dr Strahan on a tour of its cocoa processing facilities where staff demonstrated how they dried and fermented cocoa beans for international export. Ms Yates showed the visiting group how Australian-funded training and mentorship programs through Strongim Bisnis had helped Cathliro create value-added products such as cocoa nibs, roasted cocoa beans, cocoa husks and chocolate. Cathliro has since exported products to Australian and New Zealand and speciality shops, shining a light on Solomon Islands cocoa.
High Commissioner Strahan said he was impressed by what Ms Yates and her staff had achieved for Cathliro and the broader cocoa farming community.
"Ms Yates' success doesn't just benefit the staff of this inspiring, women-led company, but also 200 cocoa farming families across Solomon Islands," he said.
"We are proud to be helping companies like Cathliro export its cocoa products overseas as part of our broader support to inclusive economic growth in Solomon Islands.
"Cathliro is a shining example of the success that Solomon Islands businesses can have, even during periods of global uncertainty such as we are now facing with COVID-19.
"I would like to also thank Bakolova village plantation manager Theresa Sirilo for showing me around her cocoa farm. Using no chemicals in her supply to Cathliro, her cocoa beans make delicious chocolate."
Ms Yates acknowledged the Australian Government's assistance in helping her achieve her goals.
"This extra help has allowed me give back to the cocoa farmers new knowledge about cocoa, how farmers can benefit from cocoa to earn an income and how they can use cocoa as a food that is healthy for their family," she said.
At the end of the visit, Ms Yates invited the High Commissioner to the Cathliro Cocoa Haus Café in Honiara, where Dr Strahan sampled a hot chocolate drink and some of Cathliro's other cocoa products.
Representatives from the Solomon Islands Chamber of Commerce and Industry, Strongim Bisnis and the Australian Government initiative, Pacific Horticultural and Agricultural Market Access Program accompanied High Commissioner Strahan on the visit.
Strongim Bisnis has partnered with Cathliro and other Solomon Islands enterprises as part of the Program's efforts to help develop COVID-19 resilient businesses. Strongim Bisnis is an Australian Government initiative that supports growth in the tourism, cocoa and coconut sectors with a strong focus on supporting women, youth and people with disability.
ENDS//
What you think?