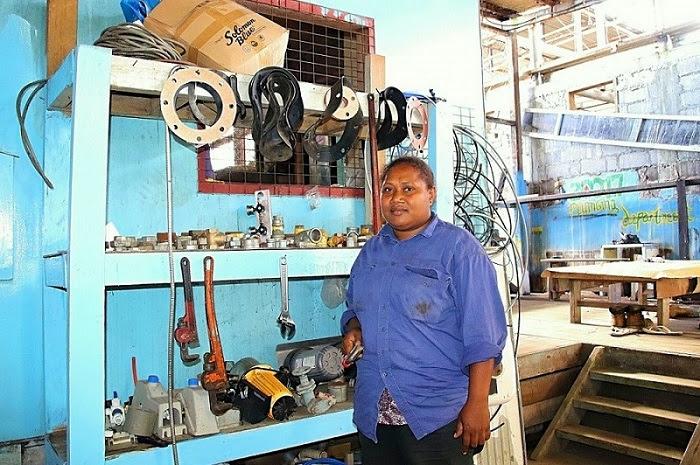 Andy Maere from Are'are in Malaita Province, Solomon Islands has proven wrong the traditional perception that plumbing is a man's job.
She has blazed a path for gender equality and social inclusion in the trades sector, an area of work that is largely male-dominated in the Solomon Islands.
An alumna of the Australia Pacific Training Coalition (APTC), Andy graduated with a Certificate III in Plumbing (CPC32413) in 2018.
Prior to this, she studied for a Certificate IV in Plumbing with the Solomon Islands National University (SINU), following which she went on to work with SolTuna Limited.
With a passion for trade, Andy always aspired to excel at whatever career she pursued, and knew that working as a woman in a traditionally male-dominated trade would offer her not only an opportunity to excel but make a valuable difference in work health and safety.
She understands that in Malaita, male and female roles are very clearly defined. However, her family encouraged her to explore plumbing skills training.
Armed with the enduring support of her family, plumbing became Andy's logical choice. She loves working as a plumber, and wouldn't change it for the world.
Currently, Andy is an Assistant Plumbing Supervisor with SolTuna Limited, a post she held before studying with APTC in Samoa.
The only female in the department, Andy was excited to join SolTuna Limited and was encouraged by their reputation of having a strong policy to protect workers.
Recalling her first time on the job, Andy experienced negative comments and disbelief on others' faces when she told them she was the new plumber at SolTuna.
One of the first women accepted to work as a plumber for the company, she has consistently proved that she has every right to be working in the trade area as the next person.
"Sometimes boys tease me but I manage myself between them, and my work is slowly improving and gaining attention. I feel proud to work with my male counterparts. Since I got into this trade, I have learned how to communicate effectively with workers and interact with males, and now it is normal for me," Andy said.
From SolTuna, she learnt about the APTC skills training course and decided to upgrade her knowledge and skills by pursuing a plumbing course at APTC in Samoa.
Studying at APTC was a positive experience for Andy as the course broadened her knowledge and skills in plumbing.
After graduating with APTC, she found that not only had her skills level significantly improved, but she was more efficient and effective at planning, prioritising, time management and critical thinking. Her work health and safety and management skills needed to support her leadership role also improved vastly.
Andy encourages aspiring young people, especially women, to build knowledge and skills in Technical and Vocational Education and Training (TVET).
"We are often afraid to undertake trades courses because we think it's a man's job but I assure you that females can do it".
"I am proud and excited that I'm one of the women trained in trades known to men. I see the demand for plumbing as running right across your working life and into retirement. You will never run out of things to do. Even when you finish employment, you can still be useful to the village," Andy added.
APTC is Australia's flagship program for training excellence and collaboration, helping Pacific Island citizens gain Australian skills and qualifications for a wide range of vocational careers. More than 15,000 Pacific Island nationals have graduated from APTC since it began operations in 2007.
What you think?