Three hundred and sixty-six (366) passengers arrived safely in Auki after one of the engines' of Pelican 96 caught fire last night on its way to the Malaita Provincial capital from the capital.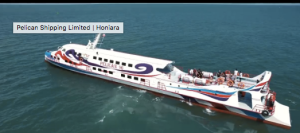 A quick act by Pelican 96 crew resulted in the fire been put off and the boat was able to sail slowly to Auki with one engine escorted by Ocean Joy.
Director of Solomon Islands Maritime Authority Thierry Nervale exclutively told SBMOnline this afternoon that SIMA coordinated the rescue and assistance operation.
"We conducted a Search and Rescue operation as it was considered a distress in the first place and mobilised other vessels to assist with priority to take the passengers from Pelican 96 and take them to Auki. A cargo passenger vessel (Ocean Joy) left from Auki to assist.
We triggered the emergency response through Malaita PDOC to welcome and assist the passengers on arrival," he told SBMOnline.
He said Pelican 96 managed to contain the fire in the engine room and restart one engine and went to Auki at slow speed escorted by the assistance vessel, Ocean Joy.
"All 366 passengers were disembarked safely in Auki no one was hurt but I suppose shaken by the experience," he said. The boat left Honiara around 5pm and had arrived a slow pace more than five hours later
He confirmed that the 366 passengers were within the vessel's capacity.
This is the second time Pelican 96 had experienced problem after it ran aground near Gizo in the Western Province in its maiden trip there two months ago.
News@SBMOnlinee2022
What you think?