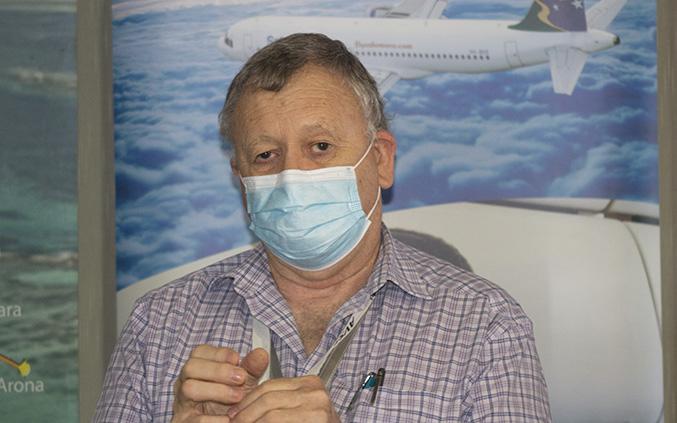 With over two years since the borders were closed resulting in the grounding of the country's only national carrier, Solomon Airlines today acknowledges that it still faces numerous challenges— but it still keeps flying.
Chairman of the Board, Frank Wickam told journalists that the airline is surviving through the combination of many efforts from government support to innovative thinking as well as charters to making sacrifices.
Chief Executive Officer, Brett Gebers recalled that all of the airline's international revenue stopped in March 2020. The coronavirus outbreak in 2020 had forced global lockdowns and though some countries had eased their restrictions already, Solomon Islands borders remain closed from international travels. Government plans to re-open the border in July.
Speaking to journalists about the lost it had on the airlines, Gebers said: "It was a huge amount of money that we had just lost automatically. On-top of that, we refunded purchased tickets, the effect on our cash flow was horrendous."
Gebers unscored that it was one the reasons they had to find alternative ways to use the aircraft to draw money into the company.
According to Wickham, the combination of efforts includes charters, leasing of one of the airline's aircrafts to Kiribati and flights to Brisbane.
Gebers added: "We rebuilt that international business and recovered to about 70% of the income and we were tracking very nicely towards making a small loss or breaking even at the end of last year. Also, thanks to the support of Australian and New Zealand as well as the Solomon Islands Government."
However, he said on the 19th of January this year they were ordered to stop all domestic flights—to stay at home and curfews were imposed.
"It had severely affected the airline's domestic revenue. We immediately lost all the incomes. It will take time and takes long time to rebuild it," he said.
Meanwhile Wickham said they were grateful that the government had stepped in to assist them meet the sudden drop in revenue. The government has given the airline $6m funding support.
Besides that, he added that they also received funding from the Australian government through DFAT by subsidizing its domestic services and of course its international route to Brisbane which is now increased to twice a week. He added this has helped to keep the plane in the air.
Wickham said going forward and with the injection of support from the national government they look forward to the re-opening of the international borders in July and for the lifting of travel restrictions on the domestic front.
Wickham stated that they are also increasing the airline's scope with trading opportunities which will greatly help the national airlines during this very difficult situation now are experienced.
Meantime, the airline's finance manager, Peter Soqoilo, also confirmed that for the first quarter of this year "we are tracking okay but going forward we don't know yet."
What you think?