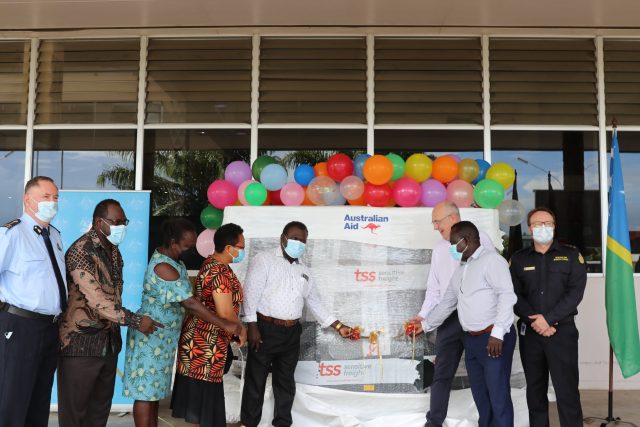 On 1 June, Australian High Commissioner HE Dr Lachlan Strahan handed over a large x-ray machine to the Solomon Islands Government for use at the Henderson International Airport arrivals hall. The HI-SCAN unit – weighing over one tonne – is designed to meet the needs of airports and customs facilities, providing reliable, fast and efficient screening of cargo. It is the first of three units to be gifted to Solomon Islands.
Speaking at the handover on 1 June, Dr Strahan said 'Much has changed since the COVID-19 pandemic first reached our shores in early-2022. The pandemic has greatly impacted mobility, stranding millions of people worldwide. We've all been separated from loved ones, including our students, mobility workers, and families abroad.
'We have already done much together to stand up to these challenges – including by keeping labour mobility going, supporting repatriation of students, and budget support to keep Solomon Airlines flying. There are now over 3,000 Solomon Islanders living and working in Australia.'
The handover is a true celebration of teamwork. The x-ray unit was gifted by the Australian Border Force (ABF), transported to Solomon Islands by the Australian Defence Force, and will be installed by Solomon Islands Customs and Aviation Security – with support from the ABF.
This new equipment will help Solomon Islands' border enforcement agencies – including Customs, Immigration, Biosecurity, and the Royal Solomon Islands Police Force (RSIPF) – to identify contraband and potential threats, including pests and insects, faster and more effectively. It is a significant step-up for the country's border security as Solomon Islands looks to welcome back visitors and tourists from July 2022.
An Australian Border Force Inspector, Damien Pollard, has been working on the ground in Solomon Islands with Immigration and other relevant agencies to help re-open the international borders. Pollard – who also assisted with the re-opening of Australia's international borders following COVID-19 – has been an invaluable source of experience and knowledge.
Inspector Pollard has provided advice and support for border policies and procedures, and re-opening planning. He also helped facilitate smoother airport operations and built capacity of border enforcement agencies – including through training for Immigration and the RSIPF.
Dr Strahan also highlighted the long-established cooperation between Australia's Department of Agriculture, Water and the Environment (DAWE) and Biosecurity Solomon Islands. This partnership will see Solomon Islands' biosecurity officers trained to utilise x-ray equipment and respond when pests are detected, protecting Solomon Islands' precious natural environment.
Dr Strahan said 'the international border re-opening will be a gamechanger. Australia congratulates the Solomon Islands Government on its milestone announcement that international borders will be re-opened this year. This is a great achievement.
'Australia's support through Inspector Pollard, and the gifting of this x-ray unit, are the first steps towards greater collaboration between the Australian Border Force and Solomon Islands Immigration. We look forward to seeing this relationship flourish, building from strength to strength.'
Accepting the x-ray unit on behalf of the Solomon Islands Government, Hon. Frederick Kologeto, Minister for Commerce, Industries, Labour and Immigration, said 'on behalf of the Solomon Islands Government, I sincerely thank Australia for this donation. The x-ray unit will help build our economy, and of course protect our security. Australia has always been a principal partner for Solomon Islands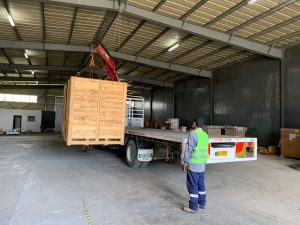 What you think?