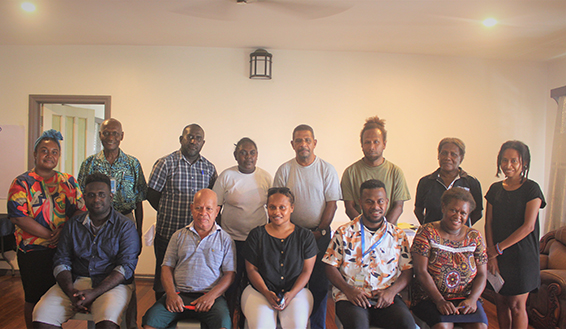 The Young Entrepreneurs Council of Solomon Islands (YECSI) paid a courtesy visit to the National Youth Congress on Friday the 20th of May 2022.
The courtesy dialogue between YECSI and NYC was held at the Secretariat office of the National Youth Congress. The Young Entrepreneurs Council of Solomon Islands Vice-Chairman Limahl Totogi took the opportunity to thank the National Youth Congress for accepting the call for the courtesy visit by YECSI and also for their continuous support towards young people in this country despite the covid-19 pandemic.
Mr. Limahl Totogi also re-assured the NYC board that YECSI looks forward to continue its partnership with the National Youth Congress to identify opportunities and way forward for young people in the sector of entrepreneurship.  He also highlighted to the NYC some of the key programs, activities which YECSI provides for its members and most of the challenges which many young entrepreneurs faced while operating a small business. "One of the many challenges which YECSI have is to try and bridge our young entrepreneurs operating in the informal business sector to the formal sector." He said.
YECSI Coordinator Mr. Maverick Seda also highlighted to the National Youth Congress Board about current partners and supporters of YECSI and one of the reasons of the courtesy visit is to strengthen its continuous partner with the National Youth Congress (NYC)
In response to the visit by the Young Entrepreneurs Council of Solomon Island. The National Youth Congress Board Chairman Aron Olofia also acknowledged YECSI for the visit and also for the continuous work which YECSI did to provide support for young entrepreneurs in the Solomon Islands.
Sharing also during the visit were some the NYC board members who also give time to talk about their duties and also providing relevant information's to the YECSI team in terms of collaborating and look at how YECSI and NYC can work together to address youth entrepreneurship in Solomon Islands, not only that but also to work with community youth leaders, provincial youth bodies and all youth body organizations to work together in addressing issues affecting young people especially in the entrepreneurial sectors.
Press Release
What you think?