A two-day workshop which aimed to draw-up proposals towards adaptation pathways for food systems in Malaita Province was held in Auki on 12th and 13th November at the Hilltop Training Institute. The workshop was supported by the New Zealand Ministry of Primary Industries (MPI) and the Australia Centre for International Agriculture Research (ACIAR), CSIRO (Australia's national research agency) and Plant & Food Research NZ. The workshop drew over 22 participants from Central and West Kwara'ae including Auki township. The participants comprised of farmers, government Agriculture Officers, Auki market vendors and youth group representatives. The overall objective of the workshop was to "develop an approach that supports decision-makers to anticipate climate change and uncertainty, and to transform food systems, using West Kwara'ae and Central Kwara'ae Constituencies as a case study".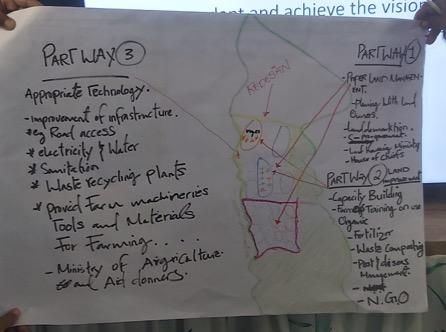 To achieve this objective, the workshop focussed on five steps: 1) How does the food system currently work in West Kwara'ae and Central Kwara'ae Constituencies? 2) What are the drivers of change for the food system? 3) What will be the impacts of climate and other drivers on the food system? 4) What is the 2050 vision for food production and the food system in West Kwara'ae and Central Kwara'ae Constituencies? and 5) How do we adapt and achieve the vision for 2050? In addition, different climate projections for West and Central Kwara'ae were presented to the participants. This included temperature, rainfall, sea level rise and cyclone risks for 2030 and 2050 and their impacts on major food products. Further, issues such as population growth and pandemics such as the COVID-19 are major shocks which can affect livelihoods and food security and were also considered.
The workshop provided the opportunity for participants to provide local solutions that account for rapid change and future uncertainty. Participants designed 'pathways' of decisions that need to be taken to adapt and maintain production of local healthy food. The work was facilitated by Mr. Pita Tikai from the Kastom Garden and Dr. John Fasi from the Solomon Islands National University with support through Zoom by James Butler from CSIRO, Veronica Doerr (Climate Change Program Manager) and Florence Rahiria (Pacific Regional Manager) from ACIAR and Gavin Kenny from MPI. The organisers and participants are grateful for the support provided by the sponsors, and Hilltop Training
Institute.   
By John Fasi (SINU – Kukum Campus) & Pita Tikai (Kastom Garden)
What you think?