USA Provides Volcanic Monitoring Equipment for Savo Volcano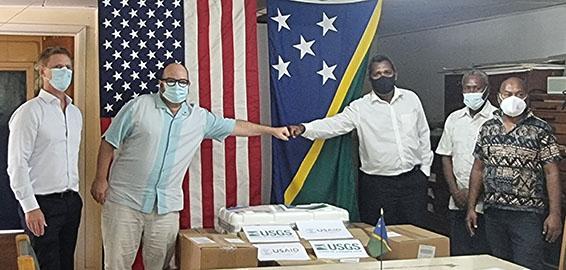 Honiara, Solomon Islands— Today, the United States—through the U.S. Agency for International Development (USAID) and the U.S. Geological Survey (USGS)—presented state-of-the-art seismometers to monitor the potentially dangerous Savo Volcano in Solomon Islands. The equipment was procured after an official request from the Solomon Islands government Ministry of Mines, Energy and Rural Electrification (MMERE) to the U.S. government to supplement the older monitoring systems already in place. The USGS prepared a shipment of solar-powered seismometers that were sent to Honiara, where they arrived on November 18. 
"With this donation, Savo Island and the surrounding areas can rest easy that Savo Volcano can be monitored around the clock for signals of future eruptions," said Russell Comeau, Director of the U.S. Embassy Office in Solomon Islands. "The United States, through the combined efforts of USAID and the U.S. Geological Survey, is honored to bring to bear our scientific expertise to support the Government of Solomon Islands in protecting Solomon Islanders everywhere."
The shipment includes three geophysical monitoring systems, which include seismometers to measure earthquakes and other vibrations as well as cameras for visual monitoring. Each installation has a value of $30,000 U.S. dollars for a total value of $90,000 U.S. dollars.
At the handover ceremony, Ministry of Mines, Energy, and Rural Electrification Permanent Secretary Dr. Chris Vehe representing the government of Solomon Islands said, "the hand over event not only is a graceful one to the Ministry, it also highlights the historical relations USA had with the Solomon Islands. Now that the equipment is here, rest assured our people on Savo and surrounding communities in the Central Province should be comforted and develop elevated confidence on our Seismological team plus National Emergency Organizing Committee on monitoring, information sharing and making informed decision to deal with potential disaster hereafter."
The equipment is powered through solar panels in order to collect and send data to MMERE in Honiara 24 hours per day. The USGS will work with MMERE to ensure that local staff can maintain the equipment and interpret the signals that can portend future eruptions. Two of these installations will be on Savo Island to track volcanic activity in the near environment. The third seismic installation will be on the northwest corner of Guadalcanal Island and will serve as a far-field monitor in the case close-in instruments are destroyed or saturated.
In early August 2021, seismic activity was noted at Savo Volcano, an active volcano 35 kilometers northwest of Honiara. The volcano has erupted four times in the last ~500 years and can produce enough ash to disrupt activity on Guadalcanal (as little as 20 kilometers away) and Honiara. About 3,500 people live on Savo Island itself.
A similar-sized eruption could pose a severe threat to the population. Recently, volcanic activity was observed in July of this year with many felt-earthquakes and steam emissions from the summit. The volcano has a history of violent and deadly eruptions in 1830-40 and in the early 1500s.
Through a long-term partnership with USAID, the USGS Volcano Disaster Assistance Program regularly supports volcano monitoring in developing countries around the world. Visit volcanoes.usgs.gov/vdap/about.html and www.usaid.gov/pacific-islands to learn more.
What you think?