U.S Navy dentist joins local dentists visit Vaturanga School
GUADALCANAL, SOLOMON ISLANDS (Aug. 19) — A team of dentists from Guadalcanal Province invited Lt. Cmdr. Alice-Anne Alcorn, a U.S. Navy dentist with Pacific Partnership, to join a site visit to Vaturanga School, Aug. 19, 20222. 
A combined team of dentists from Solomon Islands and Pacific Partnership will return to the school to conduct dental examinations, teach proper oral hygiene, and build lasting relationships.  The effort complements the Solomon Islands Dental Association initiative to educate youth and parents on good dental practices.  Now in its 17th year, Pacific Partnership is the largest annual multinational humanitarian assistance and disaster relief preparedness mission conducted in the Indo-Pacific.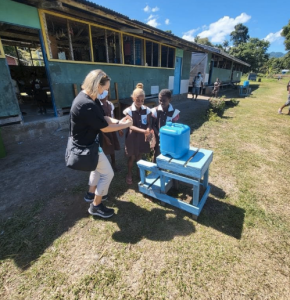 In Honiara, the Pacific Partnership 2022 team is comprised of representatives from Australia, Japan, and the United States. PP22 events are coordinated with the host nation and are planned based on the requirements and requests of Solomon Islands. Engagements in Honiara will include medical care and exchanges, engineering projects, discussions on humanitarian assistance and disaster relief, and community outreach events, including band concerts.
(Photo by U.S. Navy Chief Cornelius Johnson)
What you think?