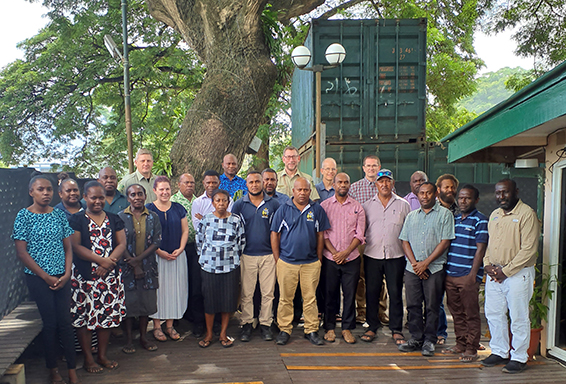 U.S. Department of Agriculture's Forest Service conducts a project planning workshop with Solomon Islands Government and Non-Government entities
 Honiara, December 8 2022 – Today, the U.S. Department of Agriculture's Forest Service (USFS) is announcing that it successfully concluded a four day project planning workshop with Solomon Islands Government and Non-Government entities.  The overarching goal of USFS engagement in the Solomon Islands is improved governance and sustainability of the forestry and environment sectors in support of the Solomon Islands National Vision of "Improving the Social and Economic Livelihoods of all Solomon Islanders".
The project planning event included representatives from the Ministry of Forestry and Research, Ministry of Environment, Climate Change, Disaster Management, and Meteorology, Guadalcanal Provincial Government, and the Solomon Islands Ranger Association. The project seeks to assist the Solomon Islands in ensuring a sustainable forestry and environment sector that adheres to existing laws and regulations that will support the implementation of key government policy objectives, including the sustainable logging development program, and increase downstream timber processing and value adding initiatives in the country. The project seeks to enhance the use of information management technologies to enhance monitoring, compliance, and enforcement of the Environment Act, Forest Resources and Timber utilization act 1969 (amendment 2000), Solomon Islands logging code of practice, and license conditions. Furthermore, the project seeks to support community rangers for education and awareness campaigns that engage with communities and landowners through Provincial government representatives. Lastly, the project seeks to promote the training and mentorship of early to mid-career forestry and environment professionals in both public and private service.
The agenda of the workshop included opportunities for shared learning and professional exchange between land managers of the United States and Solomon Islands. Traditional gifts were offered and accepted by the Guadalcanal Provincial government in support of the project initiative. The project is meant to cover/benefit other provinces as well.
About the US Forest Service
The USFS manages 193 million acres of national forests and grasslands in the domestic US for multiple uses. From timber and mineral resources to recreation and environmental conservation, the agency's portfolio is diverse. As a land management agency with broad expertise in natural resource management fields, the USFS brings on-the-ground and practical knowledge in managing lands for the benefit of the people to its international programming in over 90 countries across the globe. The USFS's multiple-use mandate means that conservation goals are balanced with economic and development goals, an approach that is very relevant to developing country partners.
What you think?