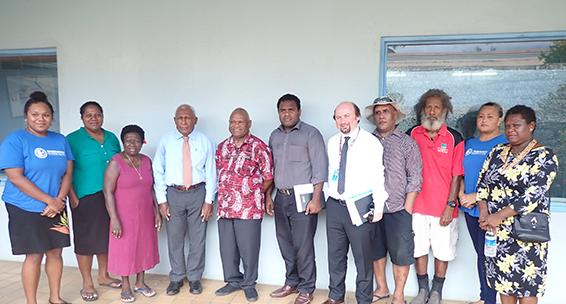 TRANSPARENCY Solomon Islands (TSI) successfully coordinated the launched of the Corruption Perception Index (CPI) last week Thursday 28th January, at the Solomon Islands Broadcasting Corporation (SIBC).
Solomon Islands CPI 2020 score, ranking and the theme were announced by the Chairman of Solomon Islands Independent Commission Against Corruption Sir. Frank Utu Ofagioro Kabui.
He said "on this date the 180 countries throughout the world learned of how clean or corrupt their public sector/government is in 2020."
The activities for the launch of the CPI 2020 included radio spots from 25th -27th January over the radio, Corruption Perception Billboard for the CPI 2020 launch and the theme for CPI this year which is COVID-19 and CORRUPTION. There are 39 DROPDOWN banners of anti-corruption messages put up on the poles of street lights along the road in Honiara. Those banners and billboards carrying strong anti-corruption messages will remain for public viewing for a month.
These activities were organized and coordinated by Transparency Solomon Islands as part of its advocacy programs in the promotion of GOOD GOVERNANCE.
The main activity of the launch day was the live panel discussion over SIBC.
The panelists included representatives from Government's Integrity Institutions and Non-Government Organizations (NGO), media [mainstream and social media], women representative, youth and Transparency Solomon Islands.
The topic of discussion was on corruption and what Solomon Islands as a country can do to deal with high prevalence of corruption in order to minimize it.
Members of the panel were the Chairman of Solomon Islands Independent Commission Against Corruption (SIICAC) Sir Frank Kabui, Chairman of TSI Mr. Frank Paulsen, Chairman of Leadership Code Commission (LCC) Mr. Solomon Kalu, TSI Legal Officer Joy Abia, President of Media Association Solomon Islands (MASI) Georgina Kekea, Founder of the largest social networking group in the country (Yumi Toktok Forum) Mr. Benjamin Afuga, President of National Council of Women Ms Ella Kauhue, Representative from the United Nations Development Programme (UNDP) Mr. Vardon Hoca, Ombudsman Mr. Fred Fakari [Ombudsman], and TSI Youth Advocacy Officer Ms. Patricia Kolaoi. The moderators of the session were Mr. Robert Iroga, Editor of Solomon Business Magazine and SIBC's Mrs. Elizabeth Sade.
The panel discussion on the subject of corruption was held to mark the launching of the Corruption Perception Index (CPI) released by Transparency International (TI) every year.
The Corruption Perceptions Index (CPI) is a set of indicators published yearly by Berlin-based Transparency International since 1995 that ranks countries "by their perceived levels of public sector corruption, as determined by expert assessments and opinion surveys of reputable institutions including the World Bank. Transparency International defines corruption as the MISUSE AND ABUSE OF ENTRUSTED POWER [PUBLIC POWER] FOR PRIVATE GAIN/BENEFIT.
Solomon Islands' SCORE OF 42 out of 100 and ranked 78 has one of the highly corrupt public sector/government in the world and the Pacific, out of the 180 countries assessed.
During the CPI launching, Chairman of TSI Mr. Frank Paulsen reveals that most countries have made little to no progress in tackling corruption as it shows that more than two-thirds of countries scored below 50 out of 100.
Paulsen said COVID-19 is not just a health and economic crisis, but a corruption crisis too.
"Over the last year, allegations of corruption in our COVID-19 SOE responses are widespread and remain un-investigated, call for audit of Covid-19 SOE response fall on deaf ears and demand for transparency and accountability ignored as well. And power is concentrated on a few powerful people sitting in positions of power," he added.
The panel discussion went on for one and half hour with a number of very important points and questioned raised by panel members who actually deal with corruption allegations. The most revealing is the failure of the Executive Government and in this instance, not the politicians but public officials sitting in positions of power not doing their work.
Panel members representing NGOs revealing challenges pose by corruption on their work and the impacts it has on citizens, especially women and youths.
The program ended with final comment from each panelist and round up by the two moderators for the session. It is encouraging that many listeners followed the panel discussion and how concerned they are that the government is not doing enough in the fight against corruption. The Government is the harbinger of the development of any country and as such having a highly corrupt public sector is certainly not good for Solomon Islands and its future.
//end with pix//
What you think?