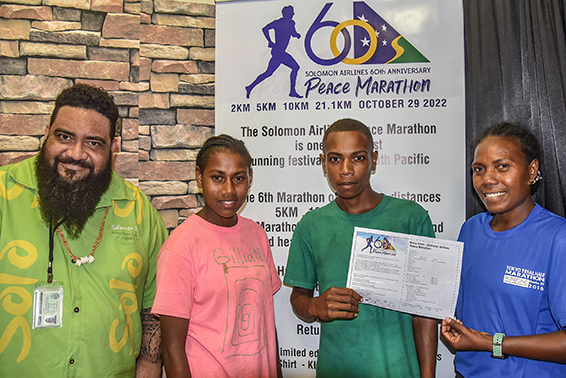 Flying the Makira-Ulawa flag at this weekend's Solomon Airlines Peace Marathon, Tourism Solomons Ambassadors, Olympian and Pacific Games Gold Medallist, Sharon Firisua and last year's marathon winner, Martin Faeni, will be joined by two of the province's up and coming young runners, Kenson Taro and Erin Haku.
This year both Kenson, 17, and Erin, 15, will be running the half marathon distance with Sharon, who placed first in the women's category last year clocking up a personal best time of one hour twenty-six minutes.
While Kenson finished fourth overall in the male category, in one hour twenty-five minutes, this year he hopes to improve on both his timing and position.
Erin Haku who hails from the highlands of Makira is a newcomer to the event but her running capability is already known having smashed the high school 10,000-metre record last year at the National Secondary School Sports Carnival.
Martin, who represented the Solomon Islands at the Birmingham 2022 Commonwealth Games where he competed in the Marathon, is currently undertaking a Bachelors Degree in Primary Education at Solomon Islands National University.
Competing in the event last year, he ran a very credible one hour seventeen minutes last year.
Makira-Ulawa Province Athletics Head Coach, Primo Higa said he was confident his two young runners will do well.
"They have been training extremely hard, and I am excited to see their times when they cross the finish line," he said.
Stressing her desire to see more ladies put on their trainers and take up athletics Sharon said she was pleased to have another female athlete joining her.
"I am so happy to have Erin alongside me for this marathon, "she said, recalling her early days when she participated in her first national competition aged only 16-years-old.Tourism Solomons Team Leader – Product Marketing, Garedd Porowai, who hails from Makira-Ulawa Province, who was on hand to assist the two young runners with their registration said his organization was proud to have such a strong team."We wish Sharon and her team mates all the very best for this weekend's event," he said.
What you think?