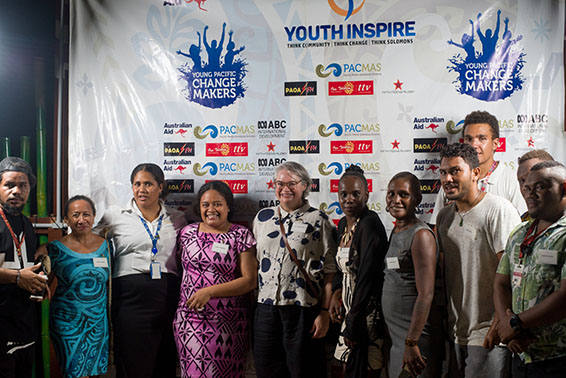 Solomon Islands is home to some of the Pacific's most inspiring and resilient up and coming leaders.
On 26 July, the Australian High Commission hosted ten of these young leaders at Dreamcast Theatre for a night of networking with Australia Awards Alumni and to celebrate the launch of the 2021 Solomon Islands Young Pacific Change Makers (YPCM) documentary series.
The regional YPCM program, funded by Australia, aims to celebrate, recognise, and raise broader awareness of young inspiring 'change-makers' who are driving change in their communities throughout Fiji, Tonga, and Solomon Islands.
In a two-stage process, Solomon Islanders between the ages of 18-30 were nominated by the public for their contribution to their communities. Ten applicants were then selected by panel of judges as Solomon Islands Young Changemakers for 2021. Successful change-makers were involved in their communities in a range of ways, through music, sport, business and as advocates for important issues such as climate change.
The selected change-makers received training and support to hone their public speaking and networking skills and an opportunity to share their stories with the media. Their stories of dedication and ingenuity were captured in short documentaries to be featured on radio and television across the Pacific.
Speaking at the launch, Australian Deputy High Commissioner to Solomon Islands, Sally-Anne Vincent said, 'Australia remains committed to supporting such regional initiatives that highlight the achievements of young people, help build their leadership skills and increase awareness of their work.'
'The Australian High Commission is happy to support the launch of the 2021 Solomon Islands Change Makers documentaries sharing the inspiring stories of young Solomon Islanders and facilitating networking opportunity with another group of change makers, the Australian Awards Alumni.'
'Since 2006, Australia has supported more than 480 Solomon Islanders achieve university qualifications under the Australia Awards,' Ms. Vincent added.
The Young Pacific Change Makers (YPCM) Program is a regional Pacific initiative funded by Australia and managed by the Australian Broadcasting Corporation International Development (ABCID) as part of the Pacific Media Scheme.
This is the second iteration of the program in Solomon Islands having first been held in 2020.
What you think?