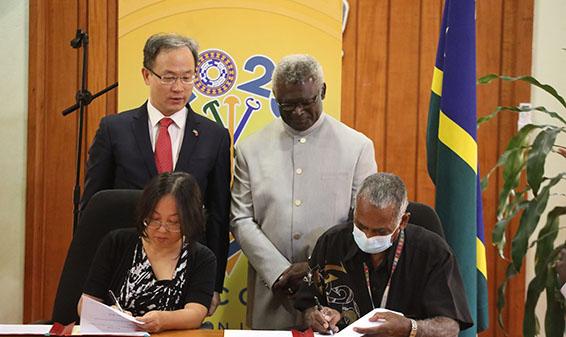 The People's Republic of China (PRC) and the Solomon Islands Government (SIG) through the National Hosting Authority (NHA) today (Friday 12th November) signed the Implementation Agreement of the Solomon Islands National University (SINU) Dormitory Building project that will be part of the 2023 Pacific Games village
Honorable Prime Minister Manasseh Sogavare and the Chinese Ambassador His Excellency Li Ming witnessed the milestone undertaking between and by the Agency for International Economic Cooperation, Ministry of Commerce of the People's Republic of China representative and the NHA Chairman Dr Jimmie Rodgers
Ambassador H.E Ming reiterated the deepening bilateral cooperation between the two governments
"The signing today (Friday) is a concrete step to carry out the consensus reached by our leaders. It marks another milestone for China -Solomon Islands relations, and we are glad that this project will be used as Games Village during the 2023 Pacific Games and the second main 2023 Pacific Games project,"H.E Ming said
He highlighted that with this project to SINU it will provide assistance as education is of vital importance for social and economic development, while salutation to the NHA and its partners in taking the lead overseeing the progress
"Thank you, Dr Jimmie Rodgers and your colleagues of NHA and other organizations for your consistent support and help in facilitating this project. We are glad to take a further step forward on our bilateral education cooperation," says Ambassador Ming
SINU Pro Vice Chancellor Mr. Shadrack Fanega also made presence to witness the occasion.
Hon. Prime Minister Sogavare in response said the project was referred as 5-wins project
"It's a win for NHA and PG 2023, a win for SINU, a win for our tertiary students, a win for SIG, and a win for the PRC!
"Your Excellency, you have already told us that the 2023 Pacific Games Stadiums project being constructed by CCECC is the single largest capital investment project by your country. With the signing of the new Implementation Agreement today, this will make your country's capital investment in my country even larger," says PM Sogavare
This signing was in accordance to the Exchange of Letters penned by both governments on 11th & 13th August 2021
According to the agreement, construction will set to commence in May 2022, the 12 months schedule expected to be handed over to SIG by June 2023.
The construction site at SINU Kukum campus will cover a total of 10,183 square meters which include; 3 four-story dormitories, 1 activity hall, 1 equipment house and relevant auxiliary projects such as greening, beautification, foot paths and roads. When completed, it will have 216 dormitory rooms, which will accommodate more than 900 students.
The Prime Minister urged SINU to look after the facilities when completed and handed over to them after the 2023 Pacific Games.
What you think?