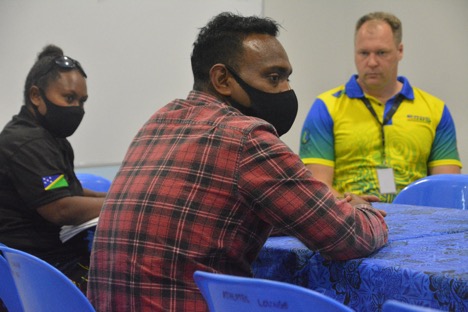 Honiara, 24th August 2022 – On Monday 22nd August, the SINIS Health team successfully held an informative discussion with the Health Promotion Department of the Ministry of Health & Medical Services (MHMS).
The purpose of the meeting was to establish strong links between the Ministry's departments around aspects of health promotion and education. This is to also exchange and communicate basic health information to improve the delivery of health services through collaboration and its relation to the High-Performance health division.
"Through this meeting, we wanted to know more of what the Ministry department has so we can work together in improving our services," SINIS Health Officer Freddie Meaiyo remarked.
Establishing the link is important to improve coordination and facilitation, increase knowledge and skills in health-related fields and ensure health education at SINIS is recognized by the MHMS – Health Promotion division.
SINIS Executive Director Aaron Alsop during the meeting was supportive of the partnership, highlighting the mutually beneficial opportunities between both organisations. "Promoting health and wellbeing is everyone's priority and we are grateful that the Ministry of Health see SINIS as a valuable partner in the community to support promotion campaigns around various health initiatives. We want to ensure that the health and wellbeing of our athletes and coaches is a top priority at SINIS and with this partnership, we are moving towards ensuring we are offering the best health and sport medicine program ever seen for Solomon Islands in sport."
Attending the meeting was MHMS Head of Health Promotion Department (HPD) Adrian Leamana and MHMS Communication Unit Media Officer Dian Maggie Row.
The Health Ministry officers were also introduced to the health services provided at SINIS for staff, athletes and coaches through;
First Aid training
Anti-Doping Education
First Aid services
COVID-19 services and education
Health Education and promotion
Health Referrals
SINIS is committed to improving the health and quality of life of all athletes and coaches in the Solomon Islands – working together with the Ministry of Health.
–SINIS Media
What you think?