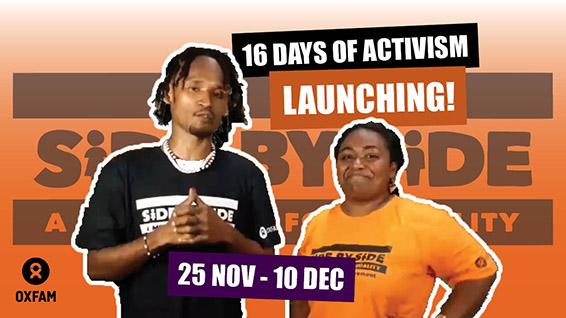 HONIARA, 25 NOV 2020 — Oxfam's Side By Side Campaign has taken innovate measures to join the globe in celebrating this year's 16 Days of Activism, with an online virtual program scheduled to go live from 25 November to 10 December.
Led by young agents of change, the Side By Side Campaign in Honiara will publish live events on their Facebook page every day starting Wednesday that will feature exciting young talents in music performances, theatre and films to raise awareness on gender-based violence.
The online approach this year is taken to counter Government restrictions on huge public gatherings due to the COVID-19 pandemic.
The 16 Days of Activism is flagged with the global theme "Orange the world – Preventing and responding to GBV in times of COVID-19 Emergency".
"So we've aligned ourselves to this and our activities in the duration of the 16 Days of Activism is based on this theme," explains Neil Nuia, Oxfam's Side By Side Campaign Coordinator.
"Our activities are prepared in a way where we try to make sure that people that watch our contents will feel that they as individuals have to take personal steps to realise the fact that gender-based violence is a big issue in our country, and to take personal actions starting from the household levels – and then of course up to the government and policy levels."
Neil applauded the 28 young volunteers working under the Side By Side Campaign as agents of change, acknowledging that most of the planning and activities were developed and will be carried out by the young agents.
"Side By Side is an initiative by Oxfam under a global campaign called ENOUGH. Oxfam is very committed as a feminist organisation that values women in poverty or women that go through injustice."
Since 2017 the Side By Side Campaign has built a tradition of holding road show concerts during the 16 Days of Activism with huge impacts in Honiara communities thanks to some big names in music who pledged support and led the road shows. These include artists; Dezine, Jaro Local, Jah Boy, Bibao, Jethro, Blanc O, Rosie Delma and many more.
"It was huge during the road shows, but now we have to adapt and be creative due to the ongoing pandemic," says Neil.
Side By Side veteran agent and singer songwriter Lester Kisina, better known by stage name Bibao, says the approach taken this year for the 16 Days of Activism is a welcoming initiative that brings more excitement to the event.
Bibao was among artists who supported the Side By Side Campaign since 2017.
Prior to the event, Bibao facilitated a song-writing workshop with Side By Side agents for the musical contents of the Side By Side 16 Days of Activism and the composition of the event's theme song.
A video of the theme song was recorded and will be released during the event.
"This campaign stands for equality, and shared responsibility by men and women. Many will look at this lightly, but I believe this is one of the main causes of gender-based violence.
"Our theme song will highlight the messages we want to bring, but we're keeping the details until it is released so I encourage my fellow Solomon Islanders and my fans to follow the Side By Side Facebook page and join us online."
The Side By Side Campaign is a movement for equality initiated by Oxfam and implemented with the support of a number of partnering organisations targeting the young population.
The Campaign aims to change the beliefs and attitudes of youths toward gender equality and ending violence against women and girls.
The Side By Side 16 Days of Activism can be accessed by visiting the Facebook page @sidebysidemovement
Ends//
What you think?