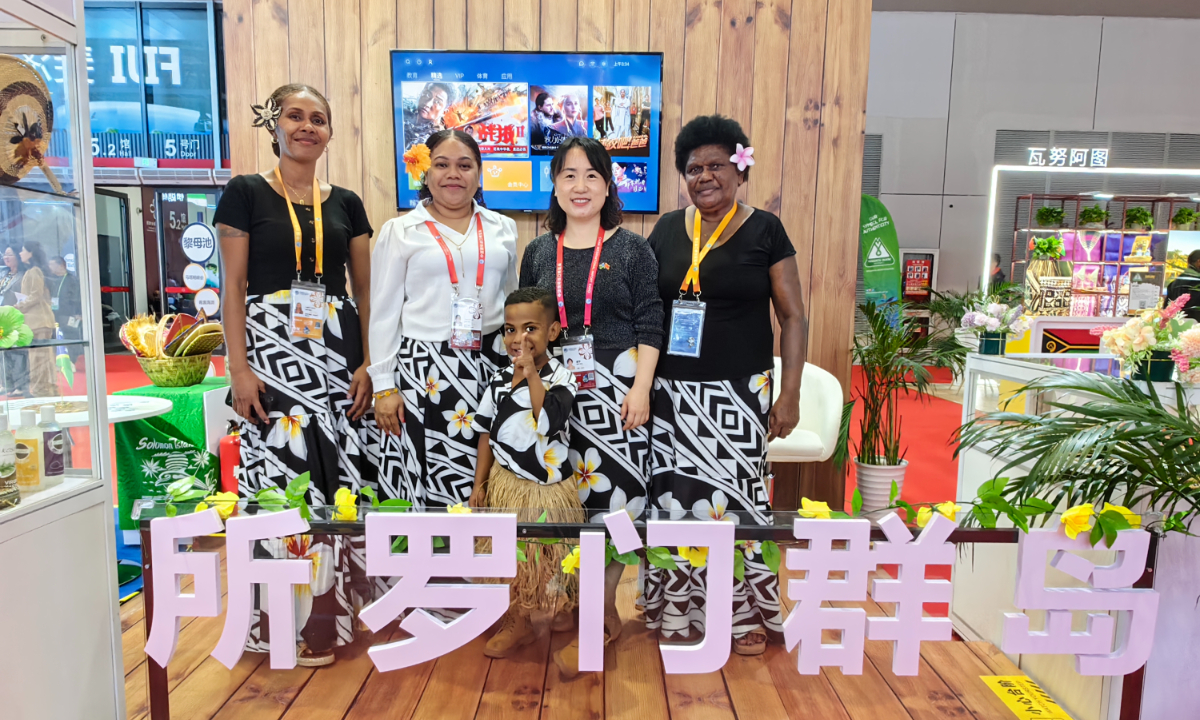 The Solomon Islands made its debut at the just-concluded 6th China International Import Expo (CIIE) in Shanghai, showcasing vibrant culture and unique products, from Solomon Tuna to artisan crafts, with the country's Chargé d'Affaires in China saying the island country is already looking forward to an even bigger showing at the next event.
As a first time exhibitor, the Solomon Islands had great success by seizing upon the exposure brought by the CIIE, and that itself is a huge achievement, Theresia Shanel, Charge d'Affaires of the Solomon Islands Embassy in China, told the Global Times on Monday.

According to Shanel, this time, the Solomon Islands participated physically in the country exhibition hall, bringing marine and agricultural products such as Solomon Tuna, dried seaweed, and moringa tea. Health and beauty products such as coconut oil and bath soap, and artifacts such as sea-shells necklaces, earrings, and bracelets were also exhibited in booth.
"Chinese people showed their interest in our products. We have established promising prospects for our products in the Chinese market and for Chinese consumers," Shanel said.
"I believe the CIIE provides a platform for a win-win situation for all parties involved. It connects producers with consumers, and further cooperation development among countries and peoples," Shanel said. "It was a great learning curve for the Solomon Islands Government representative at the 6th CIIE, Shanghai. We will come back bigger and better next year, [in] 2024," she noted.
Riley Mesepitu, Solomon Islands Permanent Secretary of Ministry of Commerce, Industry, Labour and Immigration, led the country's delegation together with the Charge d'Affaires Shanel.
The delegation introduced the Solomon Islands to international buyers and investors, and promoted Solomon Islands brands and products to the world, such as Soltuna, KOSI, locally produced honey and handcrafts.
The Solomon Islands country pavilion gained the second-highest popularity among all Pacific Islands countries, according to the Chinese Embassy in the Solomon Islands.
The 6th CIIE concluded on Friday with a new record $78.41-billion worth of tentative deals reached for one-year purchases of goods and services, the highest cumulative rate since its debut in 2018 and up 6.7 percent from 2022, according to the Xinhau News Agency.
This year's CIIE, the first complete return to in-person exhibitions since the onset of COVID-19, has attracted participants and guests from 154 countries, regions, and international organizations.
Over 3,400 exhibitors and nearly 410,000 professional visitors registered for the event, including 289 of Global Fortune 500 companies and many leading industry leaders.
What you think?