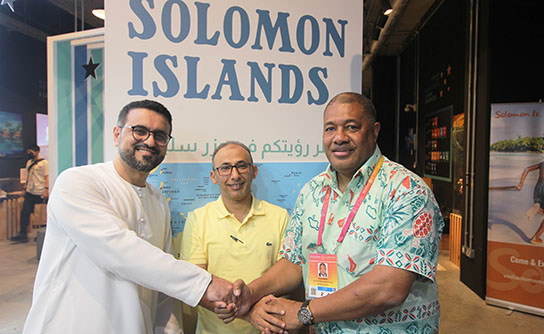 By Timothy Inifiri Jr.
The Solomon Islands Expo 2020 Dubai Team that recently returned from the United Arab Emirates (UAE), last night delivered their presentation of the 'Expo 2020 Dubai Report' at the Heritage Park Hotel.
Speaking during the presentation, Deputy Commissioner General and Pavilion Director, Dennis Marita said that their main intension of attending the Expo was to seek opportunities for Solomon Islands, with the country's theme during the Expo being Connecting our Solomons with the ocean of opportunities.
A team led by Commissioner General His Excellency, Moses Kouni Mose together with Deputy Commissioner General, Marita were at Dubai flying our county's colors at the expo which kicked off in 30th September 2021 and went on for a total of six months.
"At that particular point of time countries were finding it difficult to participate in international events like this (Expo), one is because of the Pandemic and travel restrictions and the other reason is because of financial reasons, economical reasons, but I would like to say that Dubai actually showed its strength during the Expo and managed to get all the 190 countries into the Expo, even in the midst of the pandemic", said Pavilion Director Marita.
The Expo which was supposed to happen in 2020 but was deferred to 2021 due to the Covid 19 Pandemic was a rewarding one for the country, seeing the expo team securing trade deals and agreements with number of investors in Dubai and are currently working on a bilateral agreement between Solomon Islands and Dubai in the coming months.
"The key achievements are Soltuna and KPSI (Kokonut Pacific Solomon Islands) products now have distributors in UAE," he added.
"There were some recent visits that we have witnessed quite lately, we have the Minister of Tourism for Saudi Arabia that was here, that was also an outcome from the Expo and we'll be having some UAE business men coming in next month", said Mr. Marita.
A total of three ministries namely Ministry of Foreign Affairs & External Trade (MFAET), Ministry of Commerce, Industries, Labor & Immigration (MCILI) and the Ministry of Culture and Tourism (MCT) were the joint partners in the country's preparation and participation at the Expo.
Giving his remarks last night, Permanente Secretary for Culture and Tourism Mr. Bunyan Sivoro said that such expos always provide an opportunity for us to showcase our country.
"From tourism's point of view, it's a time to tell the world that we do exist and that we welcome our visitors to come and experience the beauty and many of the wonderful things that we offer as a country", said PS Sivoro.
Meanwhile, with Solomon Islands attending a number previous expos, the 2020 Dubai Expo is said to be the best that the country has performed so far with the invitations for the next Expo, the Expo 2025 Osaka already received.
What you think?