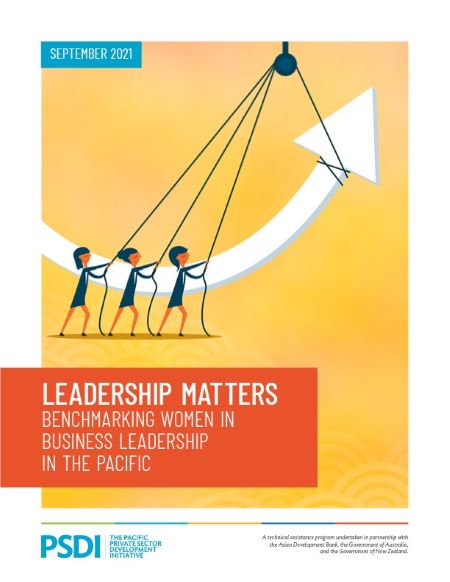 HONIARA, SOLOMON ISLANDS (14 September 2022)—The private sector presents opportunities for women to take on leadership roles in Solomon Islands and across the Pacific, but consistent advocacy and effort are critical to increase their boardroom representation, according to the Pacific Private Sector Development Initiative (PSDI).
PSDI's Leadership Matters: Benchmarking Women in Business Leadership in the Pacific report collected and analyzed women's business leadership data across the Asian Development Bank's (ADB) 14 Pacific developing member countries (DMCs), establishing a baseline for women's representation in senior business leadership, and comparing these findings to global averages.
Leadership Matters sampled 30 organizations in Solomon Islands in 2021: 9 state-owned enterprises, 20 other private sector organizations, and 1 industry association.
Solomon Islands held the lowest share of women on boards in the Leadership Matters report, with the proportion of women board directors (11%) and board chairs (0%) lower than the Pacific regional average and global average. The proportion of women chief executive officers (7%) was lower than the Pacific regional average, but surpassed the global average.
These findings were considered and discussed by Solomon Islands government, business, and civil society representatives at a roundtable event in Honiara on 14 September 2022, cohosted by PSDI, ADB, the Solomon Islands Chamber of Commerce, the Solomon Islands Women in Business Association, and the Institute of Solomon Islands Accountants.
Leadership Matters found that women remain underrepresented in business leadership across the Pacific, but there are examples of significant progress. It also found there are greater opportunities for women in Pacific business leadership roles than in the political sphere.
PSDI's analysis also revealed the ways in which barriers to women's full economic participation endure in Solomon Islands and across the Pacific, including unique challenges engaging in business.
"Companies with more women in leadership perform better, so it's in everyone's interest to get more women into leadership roles," PSDI Economic Empowerment of Women Expert and Leadership Matters author Sarah Boxall said.
Leadership Matters sets out recommendations aimed at cultivating a better understanding of the structural barriers faced by women; establishing supportive policies, practices, and incentives; and monitoring women's representation in leadership over time.
PSDI is an ADB technical assistance program in partnership with the governments of Australia and New Zealand. It supports ADB's 14 Pacific DMCs to improve the enabling environment for business and to achieve inclusive, private sector-led economic growth, including through reforms designed to enhance the economic empowerment of women.
ADB is committed to achieving a prosperous, inclusive, resilient, and sustainable Asia and the Pacific, while sustaining its efforts to eradicate extreme poverty. Established in 1966, it is owned by 68 members—49 from the region.
What you think?