Private company steps in & donates ambulance to Guadalcanal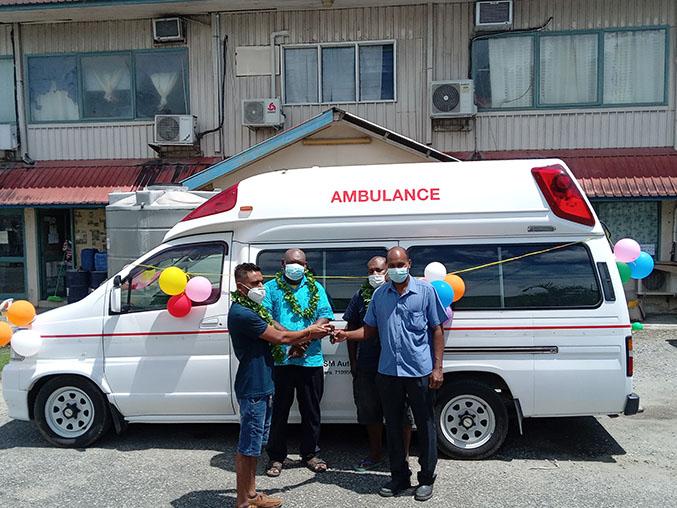 Guadalcanal Province today received an ambulance from a private company in Guadalcanal in what is described by the province as a life-saver.
LCSM Enterprise which operates in the Henderson area has donated the ambulance as part of its contribution to Guadalcanal in its fight against COVID-19.
The fully equipped ambulance was delivered to Premier Francis Sade and the province's director of health Dr. Joel Denty.
Sade in thanking LCSM stressed that the donation of the ambulance was timely because it would not only address the gaps in his province but also strengthens and improves "our care for our patients and saving lives."
He said the support is highly appreciated as on the 4th of February it was revealed that GP would not be able to access ambulance services from St John to "take our very sick people" because they were overwhelmed with Honiara responses.
Sade admitted that the since the COVID transmission in the country and Guadalcanal it continues to stretch their resources at all levels in their response to their loved ones who are sick with COVID-19.
Meanwhile a spokesperson on-behalf of LCSM Anupiya Alwis said as a responsible business entity they wanted to help out the government in this case Guadalcanal Province in the fight against COVID-19.
He hopes that other businesses would also come forward to support in the fight against COVID-19.
Premier Sade in support of the call said: "I wish to call on donor partners and SIG stakeholders to follow your (LCSM) to come forward to support Guadalcanal Province Ambulance Services."
He said Guadalcanal still needs three ambulances.
Director of Nursing at of GP, Moses Karuni said the ambulance would really help the province as a lot of lives were already lost because they were late to be transported to NRH or Good Samaritan.
"This will surely help us save lives," he said.
The ambulance will be based at the GP headquarters at Bahai.
News@SBMOnline2022
What you think?