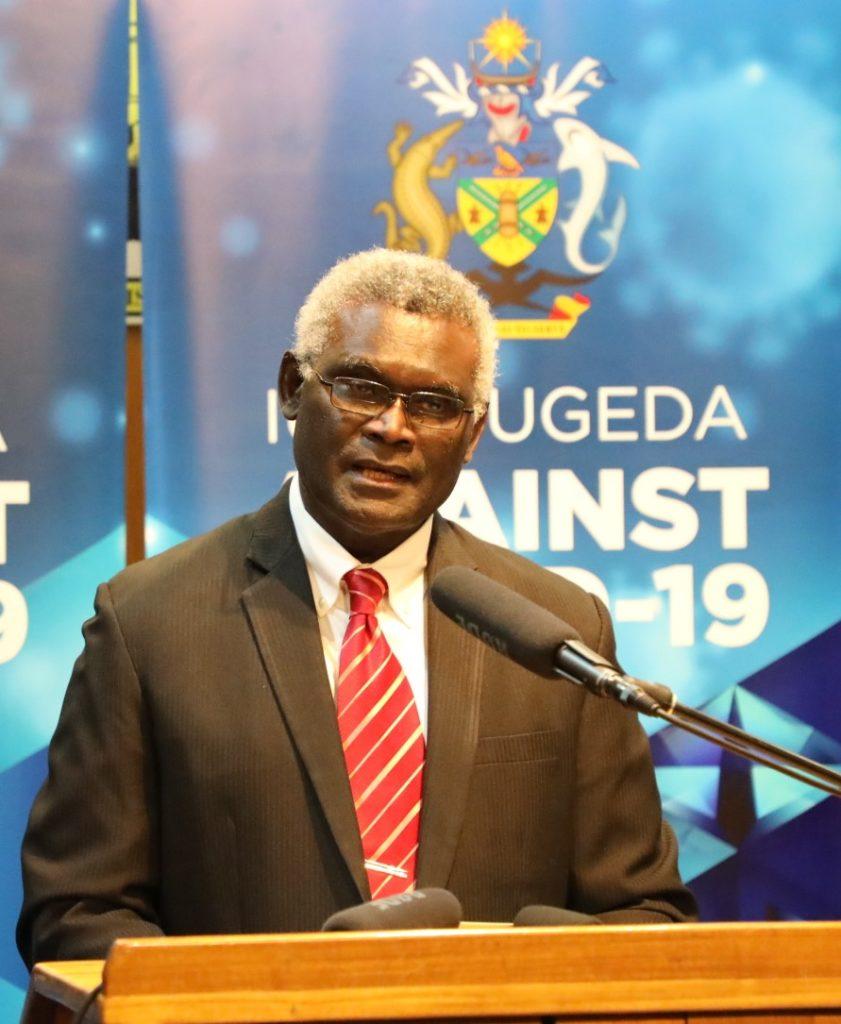 Introduction
Fellow Solomon Islanders, tuning in from the four corners of our beloved nation, Solomon Islands, it is my solemn duty to stand here again today to address you all in these challenging times. I also acknowledge citizens listening in or watching live from all over the world.
My good people, this Government remains committed and vigilant in our fight against COVID-19 from entering our shores. Our determination is stronger than ever. Our resolve has never wavered.
I am pleased to update you all, Solomon Islands still maintains its COVID-19 free status, and we remain amongst the few nations world over that have yet to record a positive case. This feat cannot be maintained by the Government alone, it is however, a testament to our collective efforts.
As such, the Government combined with each and every individual must remain united and vigilant against COVID-19 our common enemy. This Government shall continue to take drastic and proactive measures to protect our citizens.
With the greatest of humility, I urge us all to continue to be united in this fight against COVID-19.
SIG INTERNAL PREPAREDNESS.
Fellow Solomon Islanders, my Government has taken an inclusive approach towards its combat against COVID-19. As I speak now, specialised teams led by the Ministry of Health and Medical Services are out in the provincial centres to assess potential quarantine and isolation sites. A team is currently in Gizo and Noro. The same process was conducted for Malaita Province last week and teams are also in the process of being deployed to other provinces.
I am pleased to announce that the Government funded equilibrator for National Referral Hospital's (NRH) Intensive Care Unit (ICU) has been delivered and set up.
COVID 19 X-Ray machine that we are grateful to New Zealand for providing, is now being set up at the Isolation Ward of the NRH.
World Health Organisation assistance is now in country.
The remaining Medical equipment and kits are currently transiting through Australia and due to arrive in the coming days.
These include those from Australia the People's Republic of China and other parts of the region.
With most of the equipment now being delivered, NRH will very soon have the capacity to do in-country testing.
ECONOMIC STABILITY
"Fellow Solomon Islanders, the Covid 19 pandemic is unleashing havoc and generating a lot of uncertainty around the world, including Solomon Islands. Preliminary predictions from CBSI indicate that Covid-19 is 'likely to have considerable negative impact on the Solomon Islands economy'.
In our efforts to address impacts of the pandemic and off course the recent cyclone, the Government is preparing to provide a Stimulus Package. The Ministry of Finance and Treasury are finalizing the stimulus package in collaboration with other relevant government agencies and stakeholders, which will be ready for deliberation by Cabinet next week.
The Economic Stimulus Package is a demonstration of my Government's Commitment to cushion the negative impact caused by both the COVID-19 global pandemic and the recent cyclone, and ease the fallout of the pandemic on businesses and the general public.
The economic stimulus package is aimed at stabilizing our domestic economy by addressing the drop in business activities resulting from the downscaling to both private and public sector operations. While at the same time, the stimulus package is aimed at focusing on providing strategic investments into the domestic economy over the emergency period to support and complement the post COVID-19 economic recovery phase.
Be assured that we will continue to consult widely and keep the nation regularly informed on the state of our economy and measures taken to dampen the impact of the global pandemic and continue to sustain the national livelihood of our people".
EMERGENCY POWERS (COVID-19) (RESTRICTION OF MOVEMENT IN HONIARA) ORDER 2020.
Fellow Solomon Islanders, I am greatly encouraged by the updates from the Royal Solomon Islands Police Force (RSIPF). The Curfew Order enforced from 8pm to 5am on Friday 10th April 2020 and Saturday 11th April 2020 was effective. Our people in general have observed and adhered to the curfew as a measure of our preparedness and to identify areas which require specific attention.
On this note I wish to register my sincere appreciation and praise to the hardworking personnel from the RSIPF for their dedication and commitment. It was not an easy task and a logistical nightmare, but you were able to carry out your duties efficiently and effectively while also acknowledging areas that need additional focus and improvement. Congratulations.
I also wish to express my gratitude to all responsible citizens and residents for obeying the curfew orders last weekend. You have indeed demonstrated respect for the rule of law, and for that I thank you. I urge you all to continue to obey and abide by our laws as we navigate ourselves through these trying times of a global pandemic that will challenge and test us to the core.
EMERGENCY POWERS (COVID-19)(RESTRICTION OF MOVEMENT OF SMALL CRAFT VESSELS)(SOLOMON ISLANDS AND PAPUA NEW GUINEA BORDER) ORDER 2020
Ladies and gentlemen, I also made an Order last week to restrict the movement of small craft vessels between the Solomon Islands and the Papua New Guinea Border which has now been declared as a second emergency zone in addition to Honiara.
It must be noted that the Restriction of all Movement including Small Craft Vessels, across the Solomon Islands and Papua New Guinea Border which will remain effective until this Order is revoked or the State of Emergency is rescinded.
I am informed that the RSIPF has deployed more officers to the western border this week. Patrol Boat Gizo is now at the border region securing our side of the common border.
Let us be reminded that a state of public emergency still exists in the country and due to the escalating situation in our neighbouring countries, border measures will be tightened and government agencies are assessing and monitoring the situation at our eastern border while preparing to deploy police and border personnel as and when required.
That said, I encourage our people on western border with Papua New Guinea to please respect and abide by this Order. This Order is made to protect ourselves and country from COVIS-19. Our western border cannot be protected if we rely
on the police alone. Our good people from the Shortland Islands must also work together with our police.
I appeal to the Chiefs and Elders of Shortland's and other remote areas around the fringes of our country, to assist our police and relevant authorities in securing our borders and reporting any irregular movement of crafts or vessels to police and other government authorities.
CHINA ASSISTANCE
It was only 6 months ago when my Government signed the Framework Agreement Establishing the Diplomatic Relations between Solomon Islands and the People's Republic of China.
I am inspired that in a very short period of 6 months, this relationship has not only developed, but made invaluable progress despite the limitations caused by the COVID-19 Pandemic.
The Government of the Peoples Republic of China through its Honiara Embassy handed over three distinct partnership programs this past week which included grant assistance towards hosting the 2023 Pacific Games combined with cash donations to support our COVID-19 response and Tropical Cyclone Harold rehabiliation.
Fellow Solomon Islanders, The People's Republic of China has also donated laboratory equipment and reagents, coronavirus test kits and personal protective equipment. Many of these equipment and PPEs will arrive in the country this week by air and by sea and others will continue to arrive in due course.
Support covers lab equipment, testing kits, Medical gloves, Personal Protective Equipment, various Masks, Medical, surgical and N95. Infrared thermometers and medical goggles.
I also extend my sincere appreciation to all other bilateral partners and donors including Australia and New Zealand who are continuously supporting the Government during this trying time.
MV Taimareho Maritime Disaster
The government is continuing with its efforts to assist families and resolve outstanding issues surrounding the tragic and unnecessary loss of 27 innocent lives from aboard the MV Taimahero on the 3rd of this month during TC Harold.
The Ministry of Infrastructure Development has directed Maritime Authorities to carry out a formal investigation into the sea disaster while RSIPF are also continuing with their investigations into the incident and a full report is expected in the coming weeks.
Officials from my office have been liaising with the relevant stakeholders to render support and a team of Counsellors from the Anglican Church, Officials from Ministry of Peace, Health workers, the Premier of Malaita and Police Officers in Malaita province dispatched a team last week to provide counselling and assess how the government can best assist the family and relatives of the victims.
The Government is committed to provide humanitarian assistance to families of the victims and to meet cultural obligation and proper burials for those who lost their lives. A team of professional counselors from the Ministry of Health will also be dispatched next week to join churches, and provincial officials to support and encourage the affected families.
Conclusion
Please continue to be attentive to advices from our authorities.
"UMI TUGEDA AGAINST COVID 19"
Thank you and May God Bless Solomon Islands from shore to shore.
What you think?