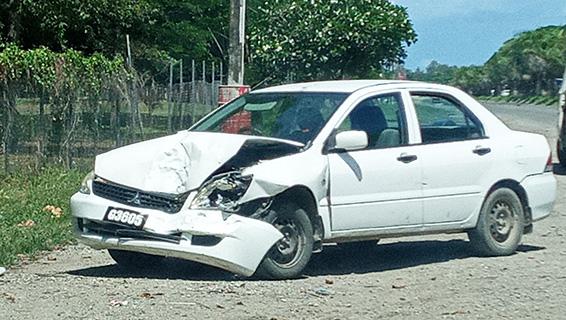 Officers of the Royal Solomon Island Police Force (RSIPF) at National Traffic Department in Honiara are investigating two traffic accidents during the Christmas period.
First accident occurred at Rove Fish Market and the other at Solomon Islands National University (SINU) Panatina Campus junction in East of Honiara.
Supervising Director National Traffic Department Inspector Doreen Vaea says, "The accident at SINU Panatina Campus junction involved a RAV4 with registration number MB 9548 and Mitsubishi registration number G3605."
Director Vaea says, "It will allege in court that the RAV4 was travelling westerly direction into town from Henderson airport. When approaching the SINU Panatina Campus junction, it dropped its speed to avoid heavy dug out pot-holes. G3605 also travelling on the same lane and struck the back of the RAV4 causing major damage to its rear door."
Supervising Director Vaea says, "The suspect was charged for three (3) traffic offences. First offence for careless and inconsiderate driving contrary to section 40 (1) RTA Cap 131 Second offence for driving under the influence of liquor contrary to section 43 (1) RTA Cap 131 and third offence for drivers to be licensed contrary to section 20 (1) RTA Cap 131."
Director Vaea says, "The other double motor vehicle collision incident occurred involving a Government motor vehicle registration number G4318 owned by the Ministry of Culture and Tourism and a white Toyota corolla registration number MC4583 at Rove Fish Market."
Ms Vaea says, "The driver of the white Toyota Corolla was travelling easterly direction when approaching Rove Fish Market, the driver fell asleep and the vehicle he was in control of hit to the back of the silver grey Hyundai G-plated vehicle. This caused a minor damage to its rear bumper. The cause of the accident was due to a fatigue. The driver did not have adequate rest and fell asleep whilst driving."
She says, "The driver of both vehicles were escorted to Kukum Police Station for further enquiries and were later released after being dealt with accordingly."
The suspect of the first accident is pending further investigation and will be charged this week for careless and inconsiderate driving. The suspect of the second accident will appear in Honiara Central Magistrates' Court on 9 February 2021.
//End//
What you think?