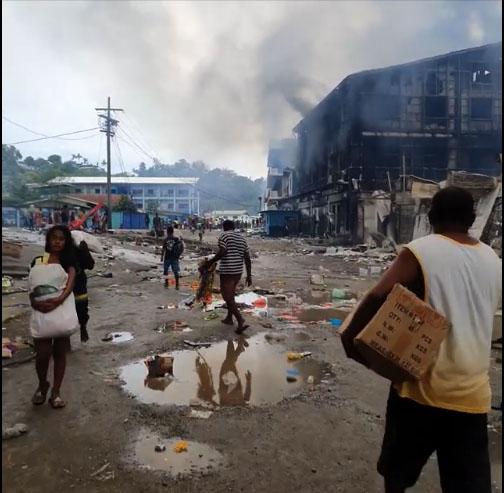 Findings from initial assessments conducted on the burnt buildings from the recent unrest found moderate to high health risks.
Led by the National Disaster Council (NDC) through the National Disaster Operation Centre (N-DOC), the assessments were conducted by the Royal Solomon Islands Police Force (RSIPF), Central Fire and Rescue Services, Honiara City Council, Ministry of Health, Environmental Health Division, Ministry of Infrastructure and Development (MID).
The assessments detected high levels of toxic gases such as hydrogen sulphide, carbon monoxide and carbon dioxide still emanating from these buildings posing moderate to high health risks of lung infection, pneumonia, bronchitis and allergies to surrounding communities and those passing by.
This toxic gases are a result of burnt products such as paints, chemicals and pesticides, physical structures and vapour including refrigerators (Freezers, fridges, air conditions. Etc.). Impacts of smokes from burning trash and plastic burning trash cans can cause long term health problems. These smokes contain vapours and particulate matter, solid and liquid droplets that are suspended in the air and harmful to humans when inhaled or in contact with eyes, skin and ears.
As such, the National Disaster Council has established portion of China Town as a NO GO ZONE including vicinity in and around groups of burnt buildings in Ranadi Area. Public is advised to keep away from burnt buildings along Kukum and Lungga area.
All shops in close proximity or near to burnt down buildings are advised to close for now until further advice is issued.
There are also individuals and groups whom have already help in the mass clean up days following the unrest, you are all advised to monitor yourselves and if you have any breathing problems, coughing, throat, eye, ear, nose and/or skin irritation, quickly sort medical help from your nearest health clinic.
All groups and owners of the burnt down buildings should you wish to organize clean- up and retrieving of remains of your properties, it is crucial that you liaise with relevant authorities, such as the NDMO, MHMS, MID, RSIPF to ensure that you do it in a safe manner preserving your health and lives.
It is also important that those residing just next to the burnt buildings to refrain from entering or going near these buildings and parents are encourage to ensure that children do no play near these buildings either.
The children, elderlies, the sick and those with underlying health conditions are more at risk of being sick from these burnt buildings therefore families are encouraged to work together to ensure that these groups of people are moved to homes of other family members far from the burnt buildings.
It is very important that all these no go zones and measures set in place are strictly adhered to and respected by the public so to preserve our health and lives.
What you think?