MEHRD announces new school year from May 30th to 6th Jan 2023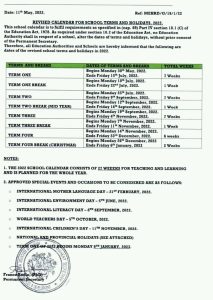 The Ministry of Education and Human Resources Development (MEHRD) has released the new calendar year for schools consisting of 7 weeks' terms of four semesters.
The calendar year released by Permanent Secretary Dr. Franco Roddie sees term one starting on 30th and ending on January 6th 2023.
He said the school calendar is to fulfil requirements as specified under the Education Act. Roddie added as required under the act, no education authority shall in respect, after dates of terms and holidays without prior consent of the Permanent Secretary.
The 2022 Academic Year was delayed following the covid-19 outbreak in January.
What you think?