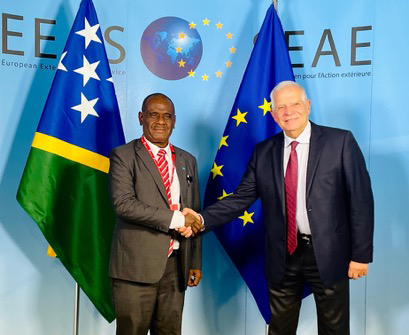 Solomon Islands Minister for Foreign Affairs and External Trade Hon. Jeremiah Manele held a bilateral meeting with the High Representative of the Union for Foreign Affairs and Security Policy/ Vice President of the European Commission (HR/VP) H.E Mr Josep Borrell Fontelles in Brussels, Belgium.
Hon. Manele acknowledged the long-standing relations between Solomon Islands and the European Union, further noting the projects implemented in Solomon Islands in the sectors of health, water & sanitation, rural development, and governance.
He also used the opportunity to express the Solomon Islands deep gratitude and appreciation for the European Union's assistance towards the COVAX Facility, through the WHO, which enabled the distribution of COVID-19 vaccinations to Solomon Islands.
The Foreign Affairs Minister informed the High Representative/Vice President on Solomon Islands graduation from its Least Developing Country (LDC) status, and the challenges the country faces in terms of meeting its commitment for graduation in 2024.
He discussed that the Solomon Islands Government's efforts in this process has been impacted by the COVID-19 pandemic, the recent November riots in the country, and other economic-related shocks.
The Foreign Minister also informed the EU High Representative/Vice President of Solomon Islands preparations for the upcoming national general elections in 2024.
Minister Manele also discussed global events and policy priorities, including the effects of climate change and natural disasters, including the impact of the recent 7.0 magnitude earthquake in Solomon Islands.
In response, the High Representative/Vice President assured the European Union's renewed cooperation and assistance to address global challenges including climate change, building resilience and continued support to the national development priorities of Solomon Islands.
The High Representative/Vice President conveyed the EU's assistance towards Solomon Islands electoral reforms, in preparation for the 2024 national general elections.
The meeting concluded with assurances to continue close cooperation between Solomon Islands and the European Union through various bilateral and multilateral platforms.
—-MFAET PRESS RELEASE
What you think?