Living with an unexploded bomb for 6 years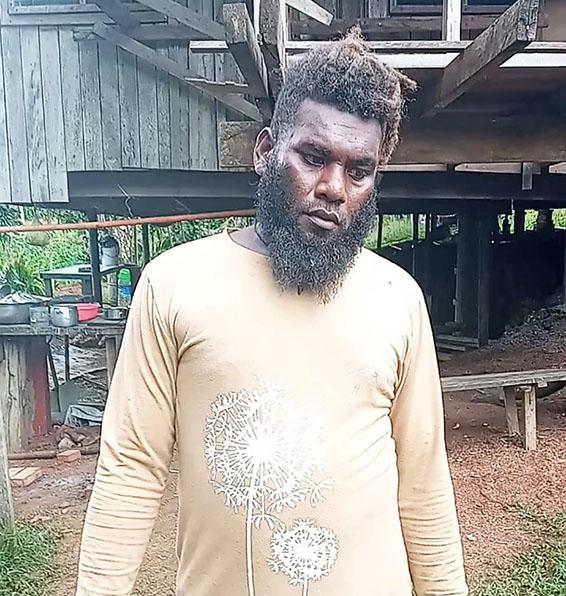 Peter Kopuria was speechless as he recalled pounding against a live bomb five times at his Titinge home just outside of Honiara (in-land).
"I could have died and the entire community vanished had the bomb exploded," he told SBMOnline recently in October.
Peter was digging for footing to replace the old posts of his sister's house when he discovered a massive US 650 lb bomb beneath the surface.
"I hit the bomb a few times. It was too strong. So I grabbed the spade and struck it one more time. It was five times in total if I could recall," he told this magazine.
"I could not crack it open. Then one of my cousins raced to me and say this could be a bomb so I stopped," Peter recollected.
Upon stopping, a panicked Peter asked his cousin Peter Milton to call the police.
"We called the police and they arrived in time. They discovered that it was a bomb so they told us not to touch it and move out of the house," he said.
The next day, the Explosive Ordnance Disposal (EOD) team of the Royal Solomon Islands Police Force (RSIPF) landed at Titinge and removed the US 650lb bomb.
"It was the first time for me to see a bomb of such nature. I was so scared," Peter said.
Peter was not only scared but he kept on repeating that it was pure luck that he survived.
"It was very scary. I am still panic," said the Guadalcanal man from Babasu in Longu.
"I must thank God that the bomb didn't explode otherwise I would be dead already," he said.
Meanwhile he said the house has been sitting there for the past six years and for that period they were sleeping on top of a huge bomb.
"My sister lives here and we are just thankful that nothing happened," he said.
The house was built in 2015 and he was replacing the old posts with new ones when he made the surprise discovery.
Officer in-charge of the EOD team, Inspector Clifford Tunuki confirmed that this type of bomb was usually dropped from planes and weighs about 300kg.
"All I can say is the bomb was huge and it was very heavy to remove," said Peter.
He said already a few people had died from bomb this year and he was absolutely happy to survive "I must thank God for his protection."
Early this year two people died from a bomb blast at Lengakiki only less than three kilometres from where the latest bomb was found at Titinge. Recently a blast had killed a father and his son. Police is still investigating the case.
Peter appeals to the Japanese Government so as the USA to take more responsibility to remove their old war remnants from Solomon Islands.
News@SBMOnline2021
(This story was extracted from our latest magazine)
What you think?