Home
Breaking News
I feel safer: PM declares after witnessing demonstrations by Chinese trained officers
I feel safer: PM declares after witnessing demonstrations by Chinese trained officers
Prime Minister Manasseh Sogavare could not hide his feelings after witnessing demonstrations by the RSIPF and CSSI personnel at Rove this morning after completing trainings by the Chinese Police declaring: "I feel safer."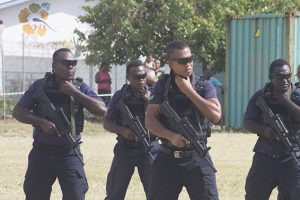 The Royal Solomon Islands Police Force and Correctional Services Solomon Island personnel have undergone five months of training in public disorder management and today showcased their newly acquired skills in front of the Prime Minister, his ministers, the Ambassador of China, some diplomats and senior police officers.
They demonstrated their abilities on how to deal with public disorder like riots, criminal attacks in the public and on VIP guests. It ranges from using martial arts skills to replica guns.
After witnessing the display Sogavare said: "I feel safer. I feel safer."
"I would also like to congratulate the China Police Liaison Team (PLT), police officers from the RSIPF and the CSSI for the very professional demonstration that I have just witnessed, using the equipment that have been donated by the Peoples Republic of China. I am very impressed and feel confident that the capability of the RSIPF and CSSI has been greatly boosted with these trainings," Sogavare said.
He applauded the Team Leader of the China Police Liaison Team Leader, Commissioner Zhang Guangbao, for his leadership and guidance over the past 5 months in training our officers.
"The effort that you and your team have put into this training is self-evident," the prime minister, said.
Meanwhile Sogavare said the recent November Riots has shown that that RSIPF capability to respond to riot and public order still needs to be improved.
"It is becoming a worrying trend recently for a small group of people to instigate such unlawful activities just because they do not get what they want. The sad part is that it is our innocent people who are being manipulated and unsuspectingly being used," Sogavare said.
He said there cannot be progress without law and order.
Sogavare said: "That is why it is important that we build the capacity of RSIPF and CSSI to ensure law and order so that we can progress and develop as a country. Investing in our law and order capabilities is of utmost importance. We must have that capability, otherwise we will continue to depend on other countries to address our internal security threats."
"As a sovereign country, this is not acceptable. We cannot continue to allow our sovereignty and democracy to be held at ransom with violence by a few people. As a disciplined force, it is the responsibility of the RSIPF to serve and protect our people and I urge all officers to discharge this responsibility with pride and honour," said Sogavare.
He said as long as the capability of RSIPF and CSSI is being questioned, certain elements within "our society will continue to use threats, fear, intimidation and inflammatory comments to create anxiety and alarm within our country."
"I have confidence and trust that with the training and equipment provided, RSIPF and CSSI will continue to defend the rule of law against the rule of the jungle. This is why our capability in the long term is crucial," said Sogavare.
News@SBMOnline2022
What you think?