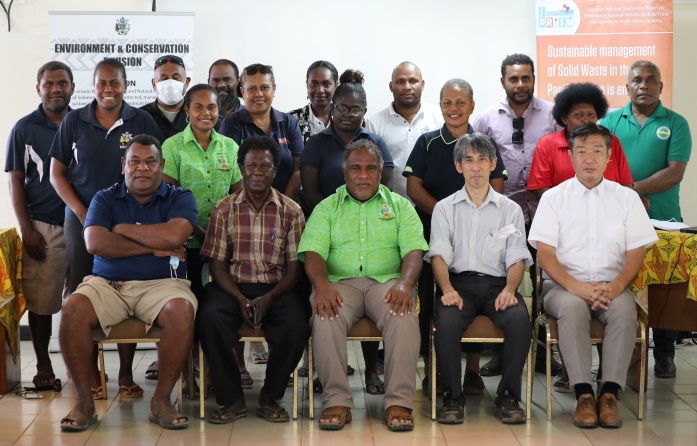 The Solomon Islands Government through the Ministry of Environment Climate Change Disaster Management and Meteorology and Ministry of Health, The Honiara City Council and JICA has concluded its final Joint Coordinating Committee Meeting of the Japanese Technical Cooperation Project for Promotion of Regional Initiative on Solid Waste Management (J-PRISM) Phase II Project in Honiara, Solomon Islands on Wednesday 17th August 2022.
The project aims to address the issue of Waste Management in the Solomon Islands particularly in the urban centres. Speaking to the different partners of the project Deputy Secretary Technical of the MECDM Mr. Chanel Iroi commended the Government of Japan, Solomon Islands Office, the South Pacific Regional Environment Programme (SPREP) and the national implementing agencies for the continuous support towards this very important project that aims to address waste management in the Solomon Islands.
Mr Iroi said for some of you, despite your busy schedules "your presence indicates the significance of today's meeting.
The Joint Coordinating Committee is one of the highest governing body of the J-PRISM II Project that is held once every year. Through this inter-organizational coordinating meeting it provides a platform for the reviewing, revising, approving and conducting evaluation of the J-PRISM II Project and its overall national plan with the sharing of experiences and opinions on the major issues that counterparts are faced with"
He reminded all stakeholders present at the meeting that 2022 is the final year for implementation of the J-PRISM II project but there are still challenges that the project needs to overcome. The project is a technical corporation project with the aim to enhance the capacity of local stakeholders to properly manage solid waste in the country.
Since its inception in 2017 Some of the key achievements under the J-PRISM II Project includes;
The Development of the Honiara City Council Solid Waste Management (SWM) Plan 2019-2027 which resulted in the Establishment of the Waste Management and Control Division as part of implementing the Plan
Development of SWM Training Manual that has been utilized to develop the plans for Tulagi and Auki SWM Plans.
Current efforts towards Plastic Ban/ Regulation in the near future
Capacity building and trainings for project counterparts
In concluding Mr Iroi said despite the challenges posed by Covid-19 pandemic, the achievements stated above are largely due to the commitments of JICA, SPREP, JICA Experts, J-PRISM II Project team, National Project Implementing agencies and more specifically each and all of the project counterparts involved in the project.
"On that note, I commend everyone for the efforts put into the implementation of this project despite the limited resources and COVID 19 pandemic"
Going forward, He urged everyone not to give up and to take ownership of what the project has established over the years, so that the country can successfully move towards sustainable waste management in our homes, communities, institutions, provinces and the country as a whole.
Ends//
What you think?