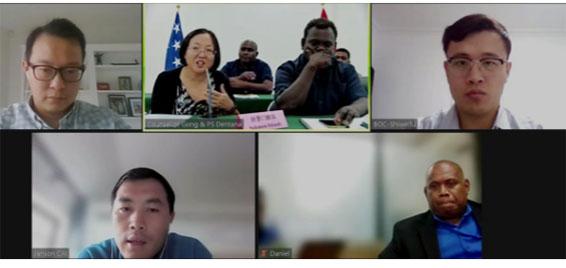 Permanent Secretary of Finance McKinnie Dentana has invited the Bank of China to consider possible financial co-operation with Solomon Islands.
Dentana made the invitation during a virtual meeting in Honiara last week with the Chinese Embassy, Bank of China and SIG Representatives to Discuss Financial Cooperation
The meeting which was held on Thursday last week was attended by the Economic and Commercial Counsellor Gong Rui of Chinese Embassy, Dentana and Representatives from the Central Bank of Solomon Islands and Prime Minister's Office with one of the largest commercial banks in China, and explored future possibilities on financial cooperation.
On its facebook page, the PRC states that Dentana introduced financial market opportunities in Solomon Islands, local demand for more financial service, and invited BOC to consider possible cooperation in Solomon Islands in the future. CBSI Representative Mr. Daniel Haridi introduced financial regulations in Solomon Islands.
Bank of China representative Mr. Jason CAI introduced the business operation of BOC in Australia, New Zealand and Pacific Island countries, and said BOC is willing to keep in touch with financial and commercial institutions in Solomon Islands during the difficult time of COVID-19 Pandemic.
What you think?