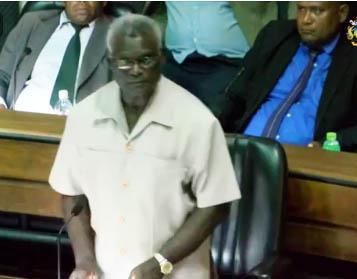 Prime Minister Manasseh Sogavare has refuted what he describes as sensational media report which early this week claimed that the Economic Stimulus Package has run out of money.
The government has allocated $309m under the ESP and had started rolling out payments last year.
Solomon Star newspaper reported that the EPS has run out of money, attracting public ridicule especially on the social media.
But speaking during his first national wide address for 2021 on COVID-19, Sogavare said "Contrary to sensational media report alleging the ESP has run out of money, all approved projects will commence receiving their approved funds effective this week."
He adds the payments of approved projects had been temporarily suspended in the lead up to the Christmas break as responsible officers also needed to take their break.
"I advise those responsible for such misleading information to stop misinforming the pubic," said the Prime Minister.
At the same time Sogavare also refused media reports also in the same newspaper that the $1.2m given by China to the government in its fight against COVID-19 has also been used for ESP.
Sogavare said: "Last week, several media reports speculated that the 1.2 million Solomon Dollars provided by the People's Republic of China to support health efforts against COVID-19 has already been used for the Economic Stimulus Package. Let me assure the public that the funds are with the Central Bank of Solomon Islands under Solomon Islands Government COVID-19 account. Relevant documents are being drawn up now to transfer the funds to the Ministry of Health's Development Partner account to commence its utilization," he said.
PM Sogavare said the funds had already been earmarked for refurbishment and repurposing of the NRH's TB ward into a COVID-19 isolation ward which will have 16 self-contained rooms.
He adds part of the funds will also be used to strengthen the ministry's capacity and capabilities to swiftly detect, and effectively and safely contain and eliminate the virus as agreed with the donor partner.
News@SBMOnline2021
What you think?