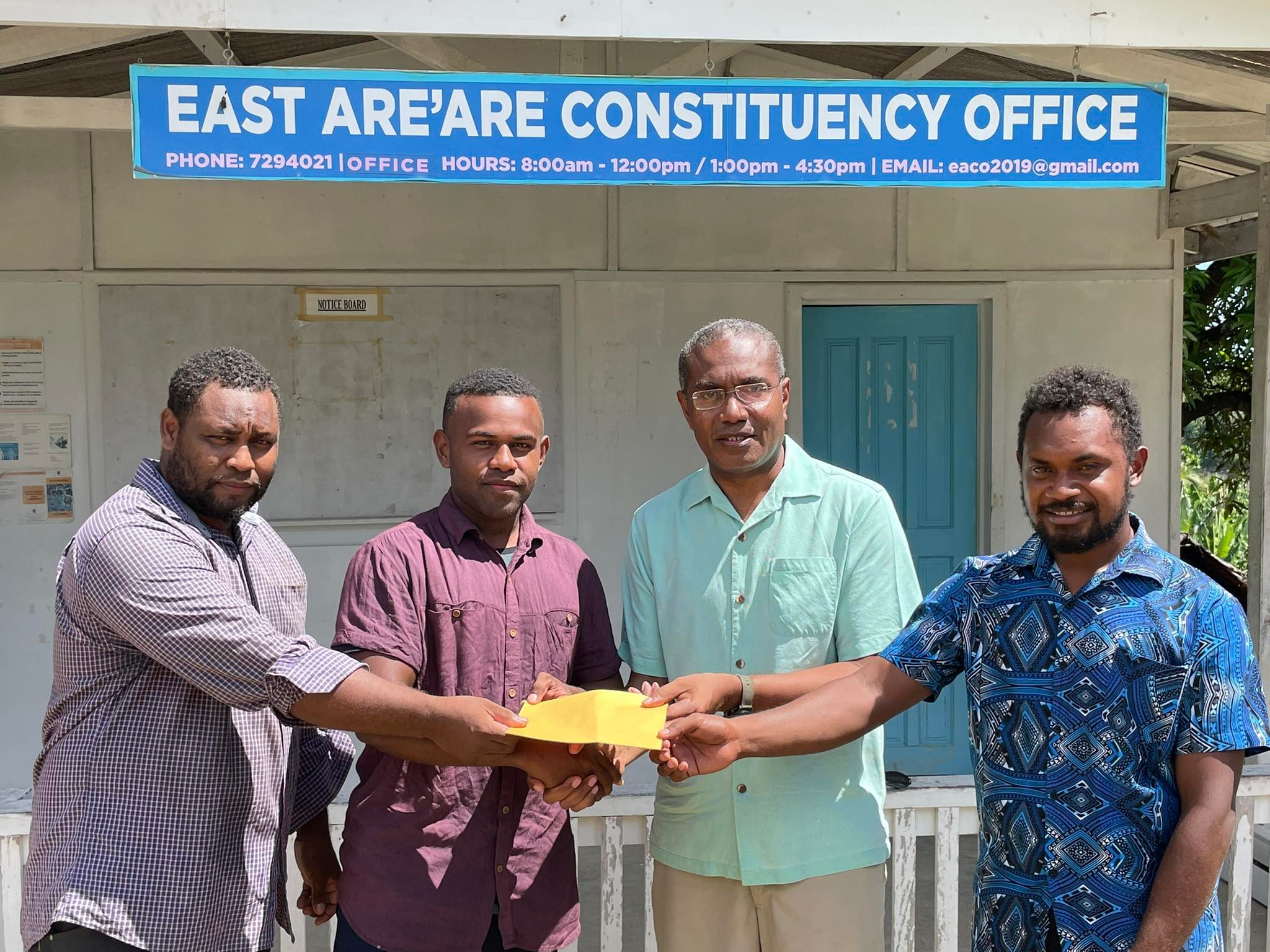 "Unemployment is on the rise in the country and the opportunity for my people of East Are Are Constituency to work in Canada cannot be missed" M.P Kenilorea.
PRESS RELEASE – 14 AUGUST 2022: Three constituents of the East Are Are Constituency (EAC) are heading to Canada in an effort to support Canada's labour needs. This opportunity has been made possible with the "Skills Ready" education and training initiative jointly offered under partnership between Canadian International Training & Education Corp [CITREC] and the East Are'Are Constituency supported under Government of Canada's Labour Mobility program offered under the Agriculture Stream.
The Government of Canada has facilitated the processing of necessary applications supporting the Canadian employer and hiring of the 3 EAC candidates.
Member of Parliament (MP) for East Are'Are constituency, Hon. Peter Kenilorea Jr, during the farewell ceremony said that he was grateful to be able to partner with Canadians on a programme that will allow his people to help support Canada's labour sector.
"I am extremely grateful to the government of Canada for the support it continues to provide to empower the people of Solomon Islands, in particular its support to facilitate opportunity for my constituents. I am confident that equipped with necessary training and education through the CITREC program offered to my people of EAC that many of my constituents will be accorded the opportunity to work in Canada and be Job Ready.
"We are looking forward to seeing many more finding employment opportunities under various sectors as Canada's labour mobility program stands to provide opportunity beyond seasonal employment with a chance to permanent residency," Hon. Kenilorea said.
"I must also take the renewed opportunity to thank the government of Canada which has facilitated the process of ensuring that the terms and conditions offered to the 3 individuals meets or exceeds Canadian employment standards," Hon. Kenilorea said. "Together We Can"
"To the employer, let me extend to you my appreciation for providing my constituents with the opportunity for employment. I am sure they will help support your businesses' demand for labour," Hon. Kenilorea said.
Hon. Kenilorea said that "Unemployment is on the rise in the country and the opportunity for my people of East Are Are Constituency to work in Canada was one that cannot be missed,".
'Solomon Islands currently has one of the highest rates of unemployment in the Pacific region. So the opportunity for the good people of EAC to receive gainful employment opportunities in Canada will help bring a sense of purpose to people and help with remittances being sent back to the constituency and Solomon Islands as a whole'. 'Going by the average of SBD40,000 being remitted to the constituency and country per person every six months, the economic impact on the lives of the people of EAC could be significant'. The added benefit of exposing people of EAC to another country, culture and peoples is one that Hon. Kenilorea also highlighted.
'Exposure to other peoples and cultures can only benefit the people of East Are Are going forward. Rubbing shoulders with Canadians and other peoples will also allow other people to be exposed to Solomon Islands and the Are Are culture as well'.
In farewelling the three first recruits to Canada, the EAC MP reminded them that they are pioneers of the CITREC Programme and they are also ambassadors of Solomon Islands. Hon.
Kenilorea presents travel documents to the 3 East Are'Are Constituents (L-R Mr. Sam Wauki, Mr. Samson Waruoa, Hon. Peter Kenilorea (Jnr) and Mr. Walton Harry) END…………… "Together We Can"
What you think?