Dr Aqorau empowers Honiara youths on building 'personal brand'
BY LYNTON AARON FILIA
Blogger
Dr. Transform Aqorau, Vice Chancellor of Solomon Islands National University, recently spoke to Honiara youth about building a personal brand during the closing of Honiara Youth Week on May 18th at the Honiara Youth Hub.
He said creating a personal brand can help young people stand out in a competitive job market as well as establishing their credibility that will attract potential employers. It is the process of establishing a unique image and reputation for oneself that sets one apart from others.
"Personal branding is critical for Solomon Islands youths who are just beginning their professions. Developing a personal brand can help individuals stand out in a competitive job market, build trust, and attract new employers."
Dr. Transform taught young people that the first step in developing a personal brand is defining who they are and what they want to be recognized for. This entails determining their abilities, talents, values, and interests.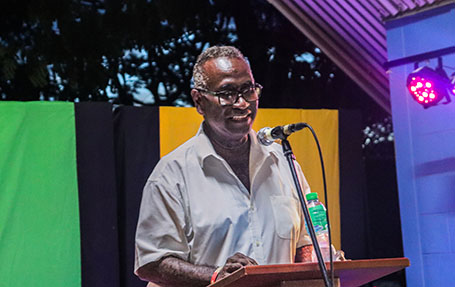 He goes on to emphasize to HCC's Youth Division youth workers, volunteers and young graduates, how important it is for them to understand what makes them unique and what sets them apart from others. After they've identified these qualities, they can begin to develop a personal brand that reflects their personality and values.
Furthermore, he stated that in today's digital age, having a strong online presence is crucial for creating a personal brand. Creating a professional website or social media presence that highlights your expertise, accomplishments, and personality is required. Your online presence should be consistent with your personal brand statement and represent your values and passions.
In order to expand your online profile, you must first create a professional website or blog that emphasizes your skills and accomplishments, he explains to young people.
"You can also build profiles on social media platforms such as LinkedIn, Twitter, and Instagram. Make sure your profiles are complete and up to date, and that they accurately represent your personal brand." Avoid posting anything that could harm your personal brand, such as divisive viewpoints or unsuitable content. Instead, concentrate on sharing information that reflects your values and hobbies, as well as content that highlights your abilities and achievements."
Dr Transform also adds that networking and collaboration are other crucial steps in developing a personal brand. This entails networking with other experts in their field and collaborating on initiatives that highlight talents and knowledge.
He said, "Networking can help you build relationships with potential employers and clients, while collaboration can help you showcase your skills and build your portfolio."
"To network and collaborate effectively, start by attending industry events and conferences. This will give you the opportunity to meet other professionals in your industry and learn about new trends and developments. You can also join professional organizations or online communities where you can connect with other professionals in your field."
Finally, Dr. Transform stated that consistency is essential when it comes to developing a personal brand. Your personal brand should be consistent across all platforms and channels, including your website, social media profiles, and in-person encounters. This includes adopting same tone of voice, graphic components, and messaging across all mediums.
He said, to be consistent, create a style guide outlining the brand's visual elements, tone of voice, and messaging. This will help in the maintenance of consistency across all platforms and channels. You should also be conscious of how you present yourself in public, such as during job interviews or networking events.
The Personal Branding session was organized by the HCC's Youth Division volunteers and youth workers, and brought together community youth leaders from 21 different communities in Honiara, volunteers and representatives from Solomon Islands Government Ministries, New Zealand High Commissioner, Australia Pacific Training Coalition, and private sectors.
Personal branding is important to young people since career prospects and mental health are the key topics of discussion among youth stakeholders, education sectors, and government sectors throughout the Honiara Youth Week.
Personal branding would be a valuable tool for them to use in showcasing their strengths and skills.
What you think?