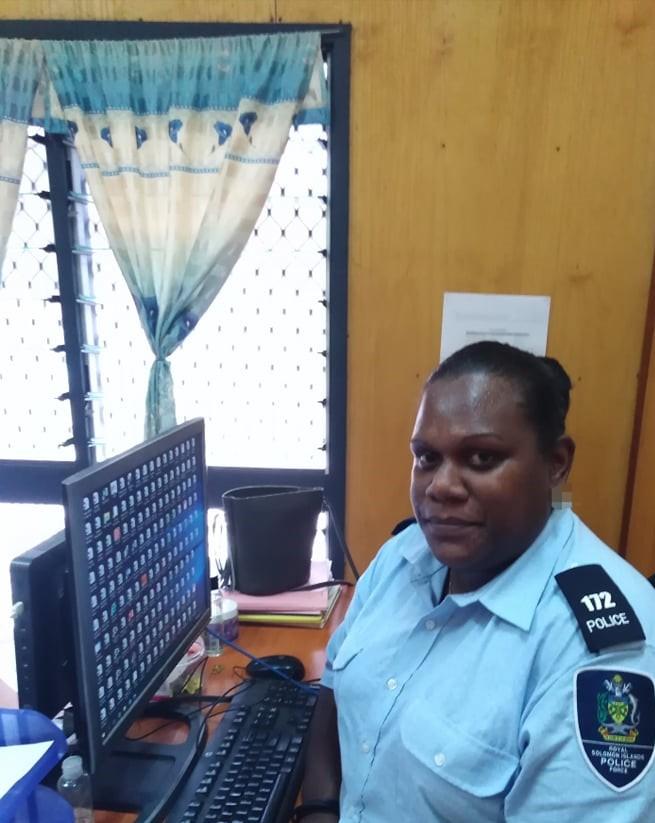 Woman Police Constable (WPC) Janice Wales, 32 years old, from Langalanga Lagoon, Malaita is a brave woman.
She sees criticism levelled at officers of the Royal Solomon Islands Police Force as a challenge.
"Accept criticism. Accept any criticism and see it as a challenge. Our oath as police officers is to serve our people and our nation," says WPC Janice from her office at the Auki Police Station, Malaita Province.
She graduated and was sworn in as a police officer on 17 August 2017. During her probation period she worked as a front liner performing general duties and was attached to the Traffic Department. She is currently the Staff Officer to the Provincial Police Commander in Malaita Province
"The reason I join the RSIPF is because I wanted to serve my country, my community, my nation and my people as a whole," says WPC Janice
"National security in the country is an important role so I want to become a law enforcer to make sure my people live in a peaceful environment."
WPC Janice adds, "As a police officer, I have been able to get to places within the country which I have never been able to get to. This is for the purpose of attending reports and visiting communities. I have dealt with and met different people. I have had the opportunity to settle and mediate a lot of issues."
"As a police officer I had to work along different colleagues, both men and women. Colleagues with different types of behaviours, characters and attitudes. But I believe I was able to get along with them because I respect everyone and they in return respect me as their colleague, moreover a woman."
"We get both positive and negative criticisms from the public along the streets, through social media including Facebook but do not back down. Let us prove the negative comments wrong," says WPC Janice as she encourages her colleagues.
"The message to my brothers and sisters in the Force is: we are working in a disciplined organization. The public is expecting us to uphold our ethics, be professional, well disciplined, display fairness and be honest in our work then the public will have confidence and trust us."
To the dedicated officers in the RSIPF, WPC Janice has this to say:
"I salute you for your dedication. Despite whatever critics and negative comments we receive from the public, please do not give up. Put your heads up high and let us work together to perform what the public expects from us."
WPC Janice concludes: "To my colleague women officers, let us show leadership where we work as RSIPF assists other government agencies to prevent the community transmission of COVID19 into the 5,000 villages in our beloved Solomon Islands. Iumi tugeta againstim coronavirus."
What you think?