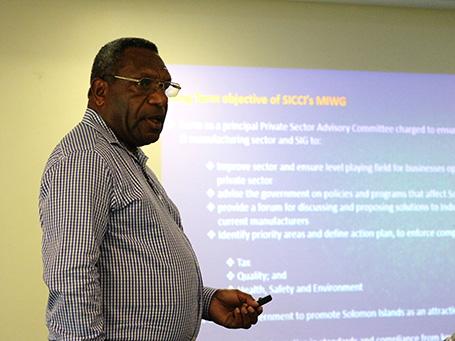 Monday 7 September, Honiara – Having standards in place for the local manufacturing sector is important not only because it ensures a level playing field for all companies but also it ensures that our people and markets are protected.
Chief Executive Officer (CEO) of the Solomon Islands Chamber of Commerce and Industry (SICCI), Ms Atenasi Ata made this statement at a roundtable meeting the Chamber hosted on Thursday 3 September between heads of companies in the manufacturing sector and top officials from the Prime Minister's Office and relevant Government ministries.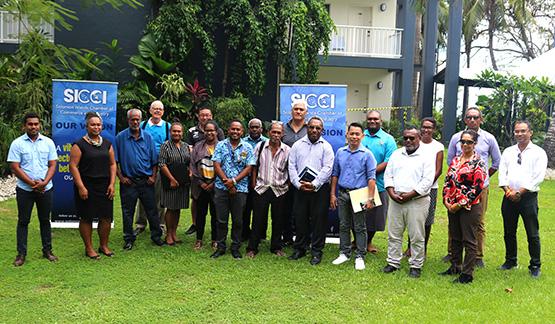 Ms Ata said having standards ensures that consumers are guaranteed safe quality products, employees are guaranteed a safe and healthy working environment while government see a boost in their revenue from a broader collection base.
"The lack of it in place for our goods and services poses a huge risk for our country and our people.
"Having standards will ensure that countries and companies that we import from take on more responsibility and meet our minimum requirements on their goods. Doing this, we avoid importing inferior, and low-quality products," she said.
The SICCI CEO also highlighted that imposing standards domestically, will ensure that locally-made products are recognised globally.
"This is appropriate at a time when the government is encouraging local farmers to grow Kava, Noni, and other niche crops. Not having a standard for our crops for example is a reputational risk when exporting our products globally.
"Other risks of not having standards and not policing them includes industrial disasters. We have experienced a recent disaster of our own in 2019 in Rennell Island from oil spillage. This is not the only case, there other areas where the country sees detrimental environmental impacts, and subsequently affectring livelihoods for our people who depend on these ecosystems," Ms Ata said.
"Huge infrastructure projects are in the pipeline and multinational contractors can easily take over local jobs if we are not careful to have our own minimum requirements in place."
The SICCI CEO said the roundtable is one of more discussions to come as private sector and Government need to align their priorities, work together and achieve our mutual interest in the spirit of partnership where business confidence can increase because of a level playing field.
Chairman of SICCI's Manufacturing Industry Working Group (MIWG), Mr Carson Korowa said standards are everywhere and play an important role in the economy, by facilitating business interaction, enabling companies to comply with relevant laws and regulations, speeding up the introduction of innovative products to market and providing interoperability between new and existing products, services and processes.
"Standardised quality of products results in increased knowledge, trust and confidence in the product delivered to the consumer at a competitive price," Mr Korowa said.
Mr Carson, who is the Chief Executive Officer (CEO) of South Pacific Oil (SPO), also highlighted examples of standards and level playing field issues in the oil industry.
"SPO is competing against other companies that operate floating oil storage who do not pay the port dues because they operate outside the ports restricted zone, who are not investing in land-based assets for storage and distribution of fuel products, not employing Solomon Islanders in the storage and distribution of fuel in the country and are not carrying oil spill equipment to protect the environment in the event of an oil spill.
"In addition, these companies do not comply with industry requirements for fuel facilities. The risks for our environment if something goes wrong are too huge," Mr Korowa said.
What you think?