CHRISTMAS has come early for Northwest Guadalcanal constituents thanks to their Member of Parliament Hon Bodo Dettke.
As of this week, the Northwest Guadalcanal Office will start to deliver projects to communities around the constituency.
The projects include;
750 new solar 50watts
Next phase of 400 sets of farming tools
1000 toilets for communities
Housing materials (roofing irons)
16 trucks to assist farmers
Total of 2,654 hymn books, Bibles, common prayer books
Materials for 69 Churches
Third phase of 300 singer sewing machines for women
Brush cutters
Water tanks for communities
On going community support on water polly pipes and fittings.
Ongoing community assistances for churches, community halls, rest houses.
Northwest Guadalcanal Constituency Development Officer CDO Junior Suga encouraged the people in the communities to take ownership and look after the projects.

He said these are projects aimed at improving the livelihood of the people through the funding's from the National Government and Peoples Republic Of China (PRC), administered by the Ministry of Rural Development.
Mr Suga said Northwest Guadalcanal constituency is fortunate enough to have a leader like Hon Dettke that recognises the needs of his people.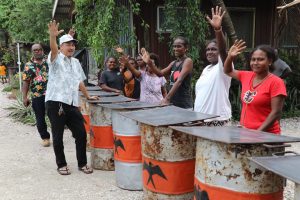 Chief Eddie Matao of Komibo Village and chairman of Kusika community visale have praised Hon Dettke for his assistance to his people.
Mr Matai said Hon Dettke is someone that has a heart for his people and wants to create opportunities for people to improve their standard of living.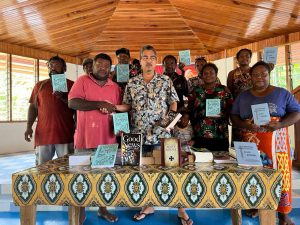 "I thank our MP for Northwest Guadalcanal for his continuous assistance and for also extending his good heart to our churches in the communities," he said.
Chief Matai said the timing is just right and could not have come at a better time as we look forward to the festive season.
Also on Wednesday this week, 40 new barbeque stands have also been delivered for Kakabona women.
Hon Dettke when speaking to the women said these barbeque stands are to assist women in their BBQ business as the country is now welcoming guests for the PG 2023.
He said the pacific athletes and delegates will always find time to visit our beaches on the west coast so this will greatly benefit the women.
ENDS//
What you think?