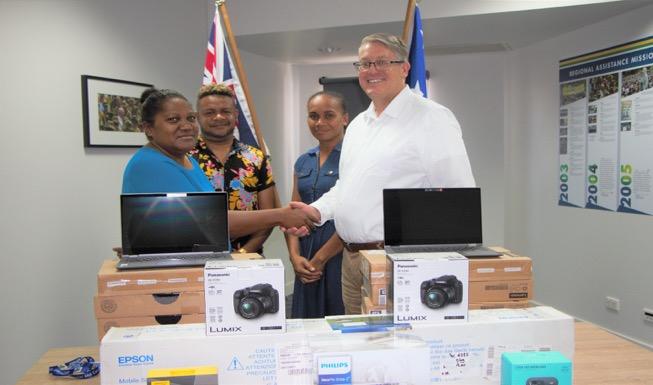 The Media Association of Solomon Islands (MASI) will be better equipped to carry out it's important role of building a skilled, independent and ethical media sector in Solomon Islands after receiving new equipment funded by the Australian Government.
On 6 October, the Australian High Commission handed over equipment worth over SBD$58,000 to the President of MASI, Ms Georgina Keka and representatives of the MASI Board as a part of an existing grant to strengthen the training of journalists in Solomon Islands.
The laptops, cameras, webcam and projector handed over to MASI will assist with connecting journalists to remote/virtual workshop opportunities delivered by regional media organisations such as PACMAS (the Pacific Media Assistance Scheme). It will also assist with training journalists to use new technology to report responsibly through new mediums such as mobile storytelling.
The equipment grant complements existing funding provided by the Australian Government enabling MASI to conduct a 40-day scoping study on media accreditation in Solomon Islands with consultations held in Auki, Gizo and Lata. Once completed in November 2021, the scoping study will identify ways for MASI to assist in protecting Solomon Islands' media industry as well as developing mechanisms to hold Solomon Island journalists to an expected ethical standard for their work.
At the handover ceremony Ms Kekea thanked the Australian High Commission for the equipment and said "this equipment will greatly assist MASI to support its members, especially in training sessions.
"Equipment such as these are basic tools needed to carry out our work effectively. Most times participants come to trainings and sessions unequipped. However having these equipment in place, will greatly assist facilitators and participants in future training and workshops".
Highlighting the importance of the media as an institution in society, Political Counsellor Kevin Playford said "The media is an essential component of any liberal democracy. An objective and skilled media sector ensures the public is kept well informed about issues of national significance. We hope that this new equipment will assist MASI to continue to build the capacity of journalists in Solomon Islands to report accurately and responsibly on issues affecting the nation."
///// Ends//////
What you think?