A dagger into the sport's future
A next generation of young basketball talents is emerging exceptionally following the successful completion of the 'August Grind' U22 basketball competition in Honiara
Gunners basketball club initiated the competition for the first time in the capital city – and despite major challenges towards the sport's development nationally, it was passion that rules at the end of the day
"The competition primarily is to have the young basketball athletes in a competitive tournament and keep them active," Gunners Club founder Augustine Basia quoted
The national point guard who is also the Vice President of the Solomon Islands Basketball Federation (SIBF) executive knows very well, given the sport's predicament is at a critical state, thus promptly step in to lend a hand.
"Lately no basketball competition has been happening due to few impediments both local and on the IF level. No such opportunities will result in the young basketball athletes slowly losing interest and turn to other activities or choosing other sports that are giving them opportunities to showcase their talent and athletic ability.
"This tournament has shown that from the 8 teams that took part, we have many raw talents in terms of basketball that if they are given the chance to be developed and refined will surely enhance our elite pool of players that we can select for national duties," the national point guard utterly admits
The grind gathered inspirations from the participating eight clubs along with the tournament's supporting sponsors, Jason Lee of Lee Kwok Kuen for winning team cash prizes, Super Star Company for sponsoring their Potata biscuits every match day, Solrice Company, and Palm Sugar Crafts Market Cafeteria for sponsoring Gift Vouchers for individual awardees.
"We thank Gunners for organizing such competition. We had a good run of experience especially when most of us are new to the game, and its structure," Gordon Ward of Peaky Blinders posted on social media
71 Hassansins mostly consisted of the hosting side claimed the inaugural title beating KG Sixers in an entertaining match up and this is with an undefeated run throughout the competition rounds. D-fenders claimed third after edging past Peaky Blinders in the third and fourth playoffs.
Recipients of the August Grind accolades are:
Good Sportsmanship Award: Anthony Gwaimaua (NCY Knightz)
Fairest Player: George William (71 Gunz)
Most Improved Player: Kenny Pongopatu (Peaky Blinders)
Star Attitude award: Michael Mane (KG Sixers)
Rookie of the Tournament: Jordan Solalu
Top Rebounder: Samson Tauneri (71 Hassansins)
Leadership Award: Aldrine Bekala (KG Sixers)
Hustle Player Award: Tyan Maenu'u (Shootaz Squad)
Defensive player of the Tournament: Kirby Basia (71 Hassansins)
Top Performance: Chokail Wini (Dfenders)
Offensive Brilliance: Levine Viva (KG Sixers)
Offensive Excellence: Godfrey Wale (71 Hassansins)
Power Forward of the Tournament: Latyma Tongaka (WR Rukiez)
Hard Work Award: Roger Elisha
Court Awareness award: Neil Tango (Peaky Blinders)
Grand Final Player of the Match: Oscar Faka (71 Hassansins)
Basketball Promotion Award: Shane Faisi (KG School) for multimedia work during the tournament.
"Gunners basketball would like to acknowledge everyone who chipped in in running the competition, the bench officials, the umpires and the 8 teams that competed in the tournament:
71 Hassansins, 71 Gunz of Gunnerz Basketball Club;
Dfenders coached by Wllie Sade,
KG Sixers the only school that competed in the grind and recent winners of the National secondarry carnival – basketball,
Peaky Blinders of 71UP west Honiara led by National Shooting Guard Pfendle Tingia
Shootaz Skuad comprises of new and upcoming athletes around town;
NCY Knights a new comer in the local basketball scene made up of youths from Ngossi
, and WR Rukiez of White River community.
These 8 teams are responsible for the successful roll out of this tournament and also play some part in the development and growth of basketball in the community level.
"Keep working hard on your game young ones, train properly and see you all next August 2022.
BY PETER ZOLEVEKE II (Sports Freelancer)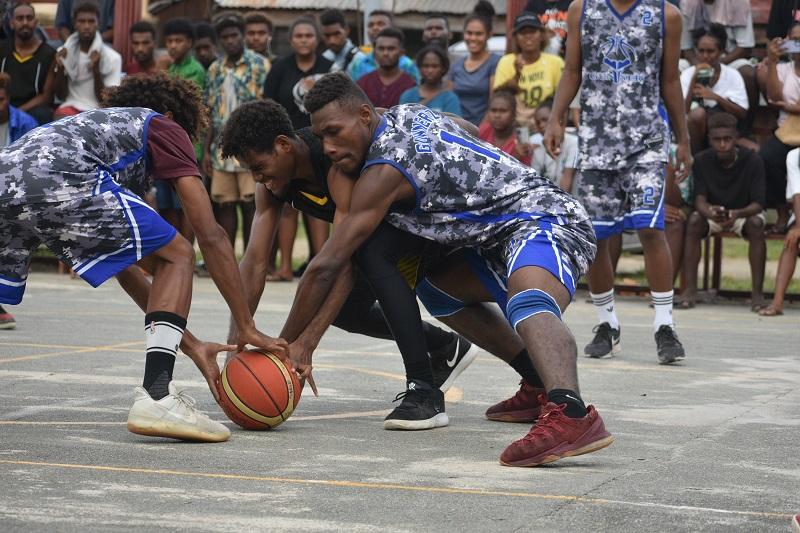 What you think?