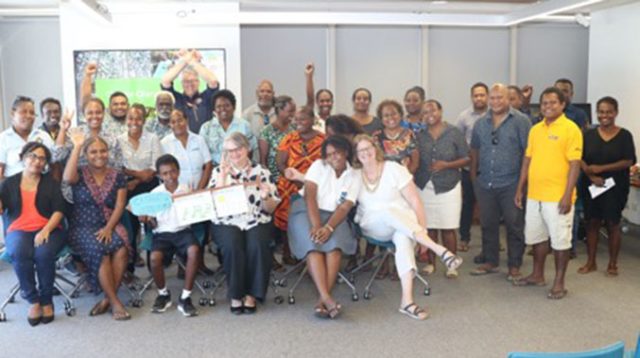 The Australian High Commission hosted a Climate Change Tok Stori on 30 September with stakeholders from across government and non-government on how Australia and Solomon Islands can work together to further climate ambition.
Speaking at the event, Deputy High Commissioner Ms Sally-Anne Vincent said, 'Forums like this are so important – working together we can accomplish so much more than we ever could alone… Australia will listen to our Pacific family as we stand shoulder-to-shoulder in responding to this climate crisis.'
The Australian High Commission was delighted to provide a platform for two young Solomon Islanders to share their voices on the important issue of climate justice.
Mr Leaba Karovo of St Nicholas Primary School – winner of the Solomon Islands Climate Action Network (SICAN) prize for speech – said 'I, a child of the Pacific, invite all of us to join hands together and raise our voices and actions for climate justice and accountability.'
Ms Cynthia Oatasia of King George Sixth National Secondary School – winner of the SICAN prize for poetry – said 'I'll tell the adults to help. There are many ways. I will yell to the giants, telling them to stop their games. And say to the crowd that it is not too late. Scream at the top of my lungs, saying climate is changing. Hand in hand, mind to mind, soul to soul, it's time we change.'
Ms Vincent, First Secretary Political Ms Jess Carpenter, and Senior Program Manager Ms Jessica Suri led a discussion with stakeholders on their priorities, ideas and questions about joint climate action.
Australia is listening to Pacific voices on climate change as we find a way forward together through the climate crisis. The Climate Change Tok Stori was an opportunity to learn from the experiences of the Solomon Islands Government, civil society, youth, and implementing partners on possible paths forward bilaterally, as a region and globally.
Australia has committed to stepping up on climate change, to further our ambition, and to continue to work together. Australia has an ambitious new target to reduce emissions by 43% by 2030 on 2005 levels, which puts Australia on track to reach net zero by 2050. The target has been affirmed as a Nationally Determined Contribution under the Paris Agreement.
For the first time ever, Australia's emissions reduction targets have also been enshrined in domestic legislation. By legislating climate targets, Australia is providing certainty and confidence to industry and investors, sending the strongest possible signal of our commitment to decarbonise our economy and become a renewables powerhouse.
Australia's promises are more than just words. Already, the Australian Government has started to implement a substantial and rigorous suite of new policies across the economy. This includes investing AUD 20 billion to modernise Australia's electricity grid, which will see the portion of renewable energy in the national energy market increase to 82% by 2030.
In addition to the AUD 2 billion commitment to climate finance for 2020-2025 – a doubling of the previous commitment – the Australian Government has announced a further increase of support for Pacific partners, including through increased development assistance, to address climate change adaptation and resilience.
Quoting Hon Prime Minister Anthony Albanese, and echoing his sentiments for the tok stori, Ms Vincent said 'We are, for all our differences, one single human family. And we all call this one fragile planet, home. When we pause and reflect on this, we recognise our connection to one another. We recognise that we have a common stake in each other. And that the best way to meet the challenges in front of us is by finding common ground.
Australian High Commission Press Release
What you think?