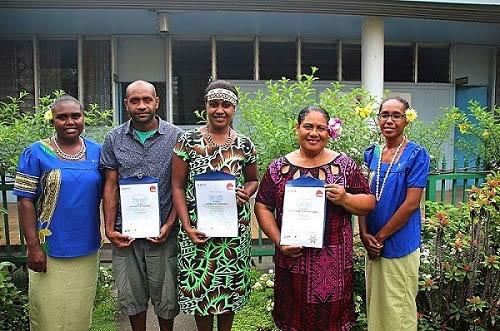 The Australia Pacific Training Coalition (APTC) in Solomon Islands welcomed its newest cohort of 51 graduates today, Wednesday 18 November 2020, in a virtual graduation ceremony.
The graduates, 55 percent of whom are females, gained Australian qualifications in five different courses of study, including Hospitality, Education Support, Tourism, Youth Work and upskilling in International Skills Training.
In her keynote address, Minister for Education and Human Resource Development, the Honourable Lanelle Olandrea Tanangada, congratulated graduates on their achievements.
"I acknowledge the Australian Government through APTC for its investments in education in Solomon Islands and the region as a whole. I look forward to fruitful days ahead in partnering for skills development in Solomon Islands and the Pacific," Ms Tanangada said.
"To the graduands, I commend you for your dedication and sacrifice in successfully completing your studies. This graduation is all about you and you deserve to celebrate your hard-earned achievements. I encourage you all to make the best use of your newfound skills," she added.
Nicelyn Puia, a graduating student in Certificate III in Education Support (CHC30213), acknowledged APTC for the virtual graduation as a "perfect innovation where students can still celebrate their achievements despite the world around us changing in many different ways."
Australian High Commissioner to Solomon Islands, His Excellency Dr Lachlan Strahan, congratulated the graduating cohort, saying "skills are so important, that's how people build a new life, how they build a job, a career and how they build things for their family."
"Education will continue to be a fundamentally important part of our relationship with Solomon Islands. All of you [graduates] should know that you have become a part of the story of the relationship between our two countries".
The virtual graduation ceremony was a first for APTC in Solomon Islands, and organised with the COVID-19 national State of Emergency restrictions in mind. This is the second and final APTC Solomon Islands graduation for 2020.
The virtual graduation ceremony aired on Solomon Islands Broadcasting Corporation (SIBC) radio station and later will be available for viewing on APTC social media platforms.
As Australia's flagship TVET investment in the Pacific, APTC has trained over 15,000 Pacific women and men, including more than 2,000 Solomon Islanders, since its commencement in 2007.
What you think?