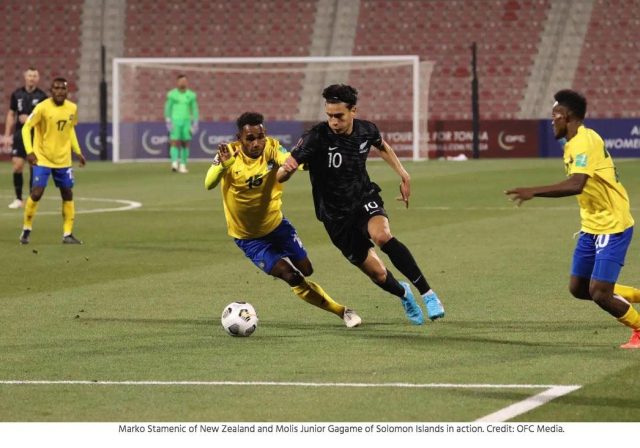 Nine members of the National Football Team will undergo two months' trial in Australia with four of them with A-League side, Melbourne City.
Keith Sanga of BASI Futbol, which is facilitating the opportunities, confirmed to SBMOnline that the rest of the members will do their trial with NPL sides to be based in Queensland.
The National Premier Leagues is a national association football competition in Australia which acts as the second tier of the below the A-League.
BASI Futbal was engaged by SIFF to organise the recent friendly matches in Brisbane, Australia as part of the national men's football team's preparation for the recent OFC Qualifiers in March 2022.
Sanga could not give the names of the players at this stage.
He, however, signalled out that those with Melbourne City have a pathway prospect to Europe given that Melbourne City is part of the Manchester City set-up.
Additionally, Sanga said those in the NPF will also have opportunity to impress and improve on their skills so as have access to get good conditioning and attract big clubs there.
"We have the talent but need to develop it," he said.
Sanga said also Australia is close to home and the level is not so much ahead so the boys should be able to perform there.
He believes that once one or two players break into the A-League then it will inspire younger Solomon Islanders in the future to also aim high.
Asked when do the boys start, Sanga said as soon as they arrive in Australia they'll be starting their trials.
The team arrives in Brisbane tonight from Qatar where they lost in the final to New Zealand.
Meanwhile, Prime Minister Manasseh Sogavare today said that the government is also considering the opportunity for "our boys" to do a 2 months' trial with various football clubs in Australia being proposed through our Consulate in Brisbane in association with BASI Futbol.
Sogavare said that government is seeking confirmation from SIFF on this opportunity and will support it as a timely investment in ensuring "we secure our best football athletes continued development opportunities in competitive environments as part of our preparation toward our flagship event – the 2023 Pacific Games."
He said undertaking such opportunities will also expose our talented footballers prospective career opportunities in professional football.
Sanga said the government support would be for accommodation, logistic and insurance for the boys.
What you think?