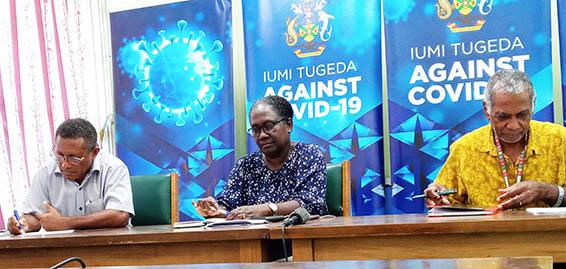 Eighteen Solomon Islands' students who were tested positive for COVID-19 in the Philippines have been released and are undergoing hotel quarantine before they fly home.
Special Secretary to the Prime Minister Dr. Jimmy Rodgers said this afternoon that the 18 had graduated and have now moved into hotel quarantine where they will be accommodated before coming back home.
There was huge public outcry for the government to repatriate the students in the Philippines following the COVID-19 positive test results of the students last month.
Dr. Rodgers said the students are now COVID-19 free but they would still have to undergo three negative test results as required by SIG.
He explained that under Philippines government protocol once one completes 14 days quarantine then he/she is automatically released from quarantine.
Permanent Secretary of the Ministry of Health and Medical Services Pauline McNeil said the students were tested on 11 and 13 September respectively and they completed their quarantine just before the end of last month.
"After 14 days of isolation as per the protocol of the Ministry of Health in the Philippines they should have already gone out of their quarantine isolation period. But as per our protocol they have to repeat the three negative results before they come home," she told journalists this afternoon.
All 18 students were tested positive with COVID-19 but were not sick. They were labeled as asymptomatic cases in which they were infected with COVID-19 but did not exhibit symptoms during the course of the infection.
Both Dr. Rodgers and McNeil reiterated that though the students have now graduated from COVID-19, they were still required to undergo three negative test results as required by SIG.
The second flight is likely to happen at the end of this month or early November. Only one of the three flights had happened last week.
According to Dr. Rodgers, who is a medical doctor by profession, the latest Solomon Islander who was tested positive on October 2 is the only person that is COVID-19 positive.
What you think?