Home
Local News
Labour mobility growing at phenomenal rate, from 189 in 2019 to 3,000...
Labour mobility growing at phenomenal rate, from 189 in 2019 to 3,000 plus workers today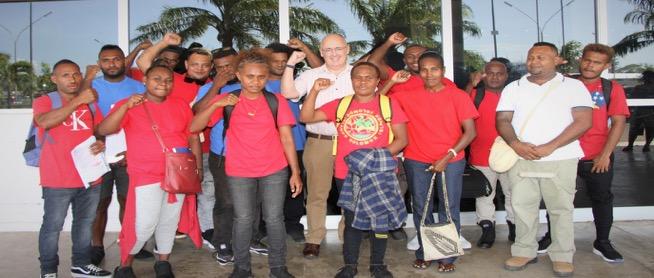 Sponsored Advertisement

Just within three years, the labour mobility programmes between Solomon Islands has grown from 189 to over 3,000 Solomon Islanders now working in Australia.
In his Op-Ed to the media yesterday, Australian High Commissioner Dr Lachlan Strahan said Australia's labour mobility programs have grown at a truly phenomenal rate.
He revealed that in 2019, 189 Solomon Islanders were working in Australia; today there are over 3,000.
"These workers are earning good incomes, acquiring new skills and expanding their own horizons," said the high commissioner.
Meanwhile he said Australia has been working with Solomon Islands to combat the COVID-19 pandemic, helping to draft the national response plan and establishing a testing capability at the very beginning of the pandemic in early 2020, supplying 500,000 vaccine doses, delivering over 40 tonnes of COVID-19 medical supplies and equipment, despatching an Australian Medical Assistance Team to provide specialist advice to health officials and deploying two RAAF C-27 cargo aircraft in February this year, which conducted 54 inter-island missions to distribute around 50 tonnes of food and medical supplies across the country.
What you think?