8 SI nationals receive documents confirming their PR in Canada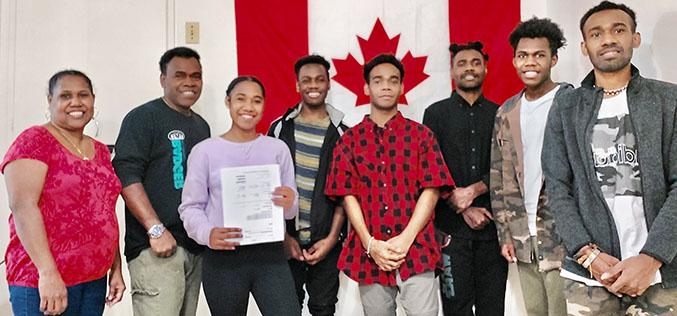 In a milestone achievement, for the first in the history of Solomon Islands Eight Solomon Islands nationals in Canada have been successfully granted Canadian Permanent Residency.
The eight new Permanent Residents, who are presently in Canada, will call Canada their new permanent home.
Mr. Mike Thomas and his family of seven received their confirmation of Permanent Resident Document late last week from Immigration, Refugee, Citizenship Canada [ IRCC], Canada's ministry responsible for Citizenship and Immigration.
The document from the Government of Canada's Immigration division confirms that 8 Solomon Islands nationals are now admitted into Canada as Permanent Residence.
All the 8 nationals have received their official document from the Canadian government known as Confirmation of Permanent Residence.
The recipients are Mike Thomas' spouse Mary Thomas and children which include Julieth Thomas, Lesley Thomas, Japhet Thomas, Nickson Thomas, Dennis Thomas and Felix Thomas.
Mr. Thomas who hails from Adeade Village in East Central Guadalcanal said that when he communicated the news to his friends and family in his village there were cheers.
"I am excited and there is this joy of celebration among all of the family members who are here with me. This becomes our new home. Canada. But Solomon Islands will always be in our heart. It remains our motherland," Mr. Thomas said from Canada.
Mr. Thomas said that this is a great achievement not only for him but also for the people of the Solomon Islands.
"The fact that 8 of us here in Canada received our confirmation of permanent residence all at one time is a huge achievement. It's not easy but this was all made possible through hard work, trust, and dedication and continuous support I have received throughout the process," Mr. Thomas said.
"All glory to God who has been with me from the day I was determined to come to Canada. And today here I am in a country where opportunity is limitless," Mr. Thomas said.
Mr. Thomas said that he holds devotion prayers every evening.
"When I completed my devotion prayer last week, soon after I saw an email from the Government of Canada. I opened it and it says that our application has been approved for PR. I was shocked and excited at the same time. This is a big one for me and my family," Mr. Thomas said.
"I am so grateful to CITREC for the opportunity it has provided. It would not be possible if I had not got the support. That was the steppingstone for my journey to Canada. This is a long-awaited dream come true," Mr. Thomas said.
Mr. Thomas also thanked the former Premier of Guadalcanal and present Central Government Minister of Police, National Security and Correctional Services Hon. Anthony Veke for his strong vision and commitment to the people of Guadalcanal that saw the program being offered to Guadalcanal people.
"Veke is a visionary leader. His decision is proving results for the people of Guadalcanal," Mr. Thomas said.
"If it was not for Hon. Veke's vision I and my family would not have had the opportunity and our journey to Canada would not have been possible," Mr. Thomas said.
"If you have the will and vision God will help you. He will guide you on every step of life. He will help your dreams come true," Mr. Thomas said.
He also thanked Solomon Islands Hon. Consular General to Canada Mr. Ashwant Dwivedi for his continued support to him and his family.
"My family becomes the first one from the village to ever receive permanent residence for any country. My people in the village, church leaders are all very happy for my and my families' achievements. Thank you so much Canada for making our dream come true.
"Sky is the limit for my family. My kids are all looking forward to continuing their education and training. Two members of my family want to go into trade like electrician and plumbers. With the permanent residence they can go to trades university to get their education and in Canada the government makes available student loans and support. So, we look forward to that," Thomas said.
Hon. Consul General Dwivedi confirmed that eight Solomon Islands nationals have had their status changed from temporary status to Permanent Residence confirming he has received official confirmation.
"I can confirm that 8 of Solomon Islands nationals in Canada are now Canadian Permanent Residents.
Last year alone Canada had granted in total 6 persons of two separate families Permanent Residencies. They were all in Canada under the temporary seasonal worker program. In previous years additional individuals have been granted permanent residence status in Canada as well.
Last year during the United Nations General Assembly Address [ UNGA] Solomon Islands Prime Minister Manesseh Sogavare had acknowledged the positive impact of Canada's labour mobility partnership with the people and government of Solomon Islands.
On social media posts Minister Veke had congratulated Mr. Thomas and family for their achievement in receiving the Permanent Residency.
"Congratulations. Thank you for your continuous support Honorary Consul," Minister Veke said.
Hon. Peter Kenilorea Jnr also congratulated the recipients on the social media post.
"Excellency. A wonderful achievement which strengthens Solomon Islands/ Canada relations. Thank you, Government of Canada," Hon. Kenilorea said.
Photo Caption: [ L-R] Mary Thomas, Mike Thomas, Julieth Thomas, Lesley Thomas, Japhet Thomas, Nickson Thomas, Dennis Thomas, Felix Thomas. Julieth holds the confirmation of the Permanent Residence document. The family of 8 became permanent residents last week. Photo: Mike Thomas
What you think?