SI ATTRACTING VOTES IN GLOBAL 'DIVE TRAVEL AWARDS' TO NAME WORLD'S BEST DIVE DESTINATION
With just six weeks to go before voting closes for the 2021 DIVE Travel Awards, Dive Operators Solomon Islands (DOSI) is appealing to the public to support their country and vote.
Solomon Islands is currently ranked 8th on the leader board in a search for the World's Favourite Dive Destination.
Solomon Islands Uepi Island Resort is ranking 9th among favourite Dive Resorts/Operations and Bilikiki Cruises is currently ranked 2nd in the race for the title of world's favourite Liveaboard.
The hotly contested competition, run by UK based Dive Magazine, gathers votes from dive enthusiasts and members of the public worldwide, to name the world's Top 10 favourite Diving Destinations, Top 10 Dive Resorts/Operations and Top 10 Liveaboard companies. The awards are also keenly followed as credible advice by the global dive, tourism and travel industries. The 2021 Award currently sees Solomon Islands competing among a growing field of 72 nominated destinations, 464 dive centres and resorts and 190 liveaboard companies.
In the most recent update, Indonesia is leading all categories ranking first as Top Scuba Diving Diving Destination, with Papua Explorers Resort Indonesia leading in the Dive Resort category, and Coralia Indonesia leading the Liveaboard category, While organisers say 'nothing is set in stone' they also say there are definite candidates as voting continues to increase, and Solomon Islands historically has achieved the top 10 position several times. Last year over 37,000 people voted in the awards. Voting is free, and open to the public via a form on the DIVE Travel Awards web site at http://divemagazine.co.uk/travel/. All voting closes on 31 October, 2021.
"The DIVE Travel Awards are extremely important in our industry worldwide and are a huge opportunity to create greater awareness of the amazing diving opportunities we offer in Solomon Islands, "said Grant Kelly, Manager of Uepi Island Resort and DOSI President. "Divers and the travel and tourism industries watch these results closely and recognition for the Solomon Islands in any category is influential and will help us all," he said.
Colin Sigimanu, Manager Commercial for Solomon Airlines agrees. "We are encouraging as much awareness of these awards as possible to fans and followers of the Solomon Islands. This is particularly important now, following the interruptions caused by the COVID pandemic. Solomon Islands has appeared in the highest rankings in these awards previously and our reputation as an exceptional dive destination has gathered momentum.
"Once our borders re-open, divers will be among the first to pursue their passion and look for safe and uncrowded destinations and Solomon Islands is likely to be high on the must-visit list for divers from Australia, New Zealand and elsewhere around the world," he said.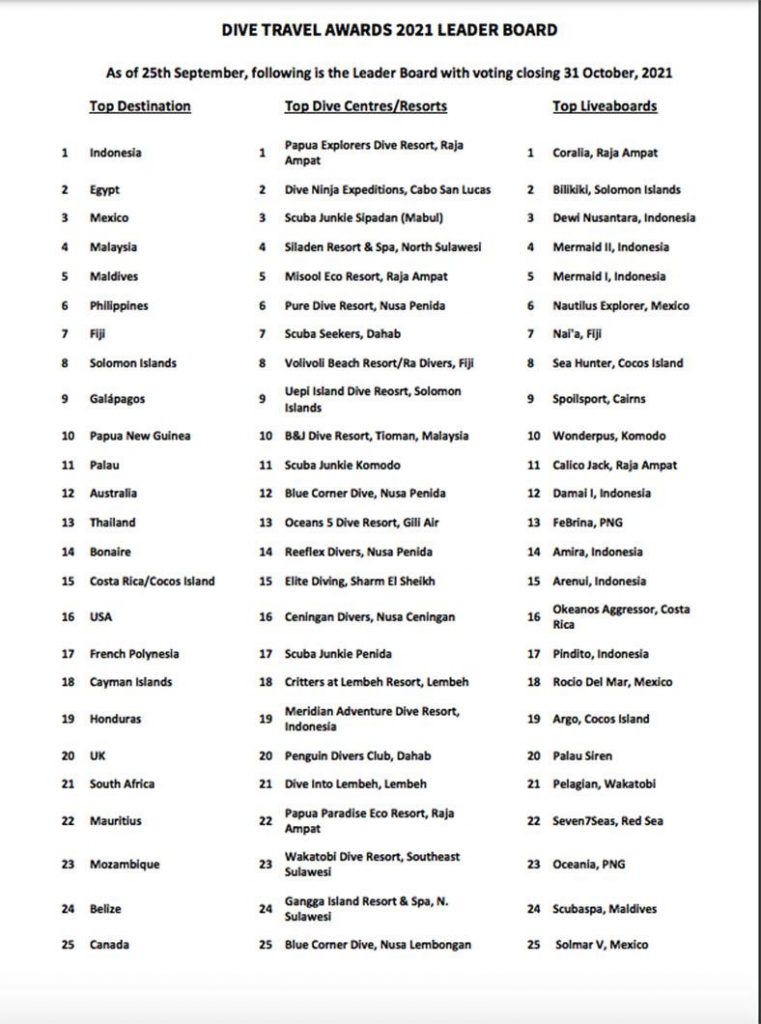 Facebook Comments