First draw for 'Bisnis For Vaccine' campaign
Thursday 23 September, Honiara – The first fortnightly draw for the 'Bisnis For Vaccine' campaign was conducted on Friday 17th September with winners walking away with prizes certain members of the business community who are supporting this campaign.
'Bisnis For Vaccine' is a campaign launched by the Solomon Islands Chamber of Commerce and Industry (SICCI) in early September as part of the private sector's support towards the country's COVID-19 vaccination drive.
Due to the current low take up rate of COVID-19 vaccinations in the Solomon Islands, SICCI has decided to run this incentive with the support of businesses to focus the eligibility for the draw on those vaccinated from 1st September onward.
The draws will be conducted on a fortnightly basis, and a total of sixteen (16) lucky winners walked away with a smile on their faces this week as they collected their prizes from the SICCI secretariat following the first draw on September 17.
Prizes for the first draw included seven draws for $250 for those who are partly vaccinated, another seven draws for $500 for those fully vaccinated and two drums of petrol and two outboard motor engine oils.
Once registration increases, more prizes will be added to the 'Bisnis For Vaccine' campaign including two $1000 gift vouchers from Solomon Airlines, 2 cartoon of Soltuna products and a Iumi Tugeda Holiday package sponsored by Strongim Bisnis.
The next draw is set for Friday 1st October, 2021.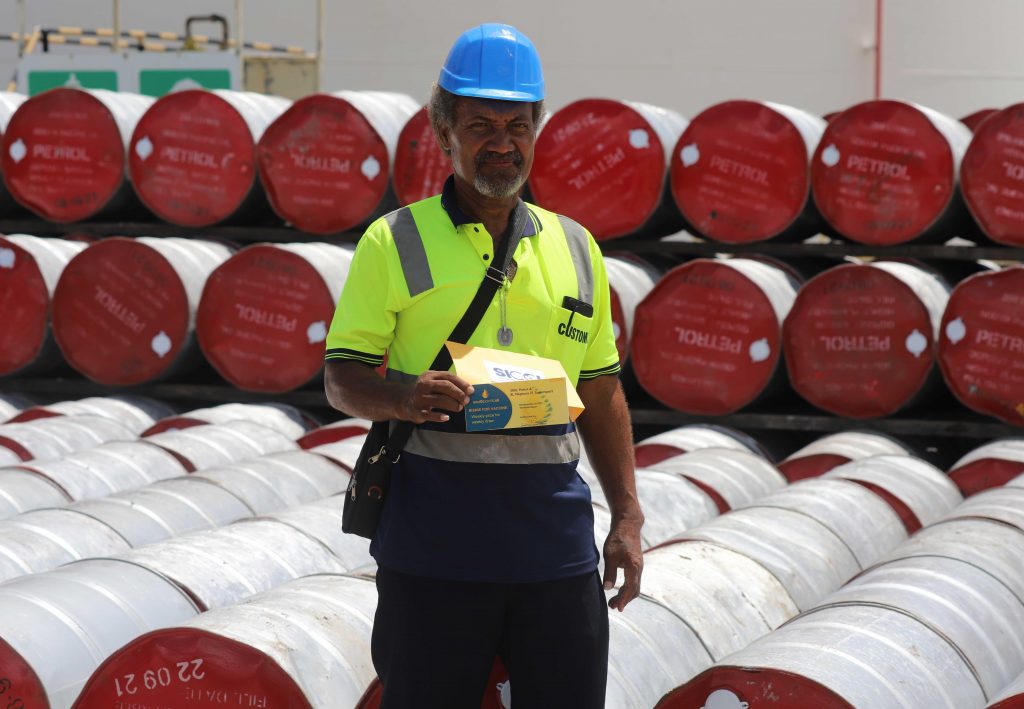 Meanwhile, registration for anyone wishing to enter the draw is still open. To register for the fort-nightly draws you must be partially or fully vaccinated from 1st September, 2021 and will be required to present your COVID-19 Vaccination card at the registration site. Registration site is at the SICCI Secretariat Office at Hyundai Mall, room 223 and Y-Sato Office at Commonwealth Street.
At the time of registration, you will be required to show an ID card that has a photo on it which can be your NPF Card, Driver's License, Voter Register Card or a Passport Bio page.
ICCI acknowledge the following business, companies and organisations who have come forward to support the "Bisnis For Vaccines" campaign:
Y-SATO Marine
AJ & Blum Ltd
BRED Bank
Bank South Pacific (BSP)
SolTuna Limited
Reeves International
Tropical Group Builders (TGB)
ANZ Bank
Solrice Limited
Gold Ridge Mining Limited (GRML)
South Pacific Oil (SPO)
Firesafe
Strongim Bisnis
SICCI reiterates that the private sector and business are ready to support Government vaccinate the targeted population to keep our country safe from this deadly virus.
Vaccination is one of the main ways to protect our communities and businesses to reduce the possibility of community spread if and when our borders are reopened.
-SICCI Media
Facebook Comments