We're in this pandemic together and we will get out of it together: UK-Australia
There's only one way out of the COVID-19 pandemic: we all must get vaccinated as soon as we can!
The Australian and UK High Commissioners, Dr Lachlan Strahan and Dr Brian Jones, received their second AstraZeneca shots at the Solomon Islands Government's field hospital today. They were joined by Australian and Solomon Islander staff from the Australian High Commission.
It was great to see many other people queueing up to get the jab, protecting themselves, their families, their workmates and their neighbours.
'The latest COVID-19 outbreak in Sydney demonstrates that the Delta strain can spread rapidly, putting people of different ages into hospital, some into intensive care units on ventilators', Dr Strahan said. 'The Delta strain has recently hit other countries in our region, especially Fiji and Indonesia, hard.'
'All the data indicates that the AstraZeneca vaccine is highly effective against all COVID-19 strains, including Delta, providing very strong protection against serious illness, hospitalisation and death. Getting a jab is all about saving lives and allowing our economies to recover from the turmoil of the last 18 months.'
Dr Strahan called on everyone to ignore conspiracy theories which are undermining confidence in COVID-19 vaccines. 'Some people are spreading frankly ridiculous claims, such as the vaccines damaging virility or fertility, bearing the sign of the beast or carrying microchips, which are creating fear and putting lives at risk. Such irresponsible and dangerous behaviour must stop. We all should listen instead to good scientific advice, based on evidence, which aims to protect the health of all of us.'
Asked his motivation for getting vaccinated against COVID-19, Dr Jones said it was a sense of duty to protect his family, his colleagues and Solomon Islands. 'The vaccine is the best way to prevent getting seriously sick or dying if you catch COVID-19, and if you're not sick it makes it less likely you'll infect other people. So it is everyone's duty to get vaccinated. '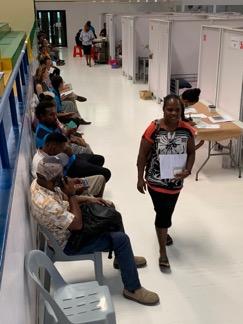 By getting his second dose of Astra Zeneca today, Dr Jones said he was joining more than 35 million people in the UK who had had their second dose of the vaccine. 'Almost all of them have walked away afterwards with no pain or discomfort. And all of them are now protected against getting seriously ill or dying from COVID-19.'
'The vaccine is easy, quick and available free of charge in Solomon Islands', said Dr Jones, 'so everyone over 18 should protect themselves and their families by taking it as soon as possible.'
Dr Strahan said Australia would deliver another 50,000 Australian-made AstraZeneca doses to Honiara on 30 July. 'Australia has pledged to provide Solomon Islands with up to one million safe and effective vaccine doses to ensure that the entire population of the country is vaccinated', he said.
The AstraZeneca vaccine represents another great UK-Australia collaboration, with the scientific research taking place in Oxford in the UK and the vaccine doses being manufactured by CSL in Melbourne in Australia.
As two of Solomon Islands' closest partners, Australia and the UK are supporting Solomon Islands through the pandemic through vaccination, healthcare, testing, economic support and other expert services and advice to the Government of Solomon Islands. We are doing so bilaterally, with other partners such as New Zealand and Japan and through the international organisations such as the WHO, UNICEF, the World Bank and the Global Vaccines Fund. We're all in this together. We will get out of this together!
Facebook Comments