USD$27.4m funding for Tina River Transmission System signed in Honiara
In a major landmark event this morning, Solomon Islands and Australia have signed an agreement for the co-funding of the Tina River Transmission System.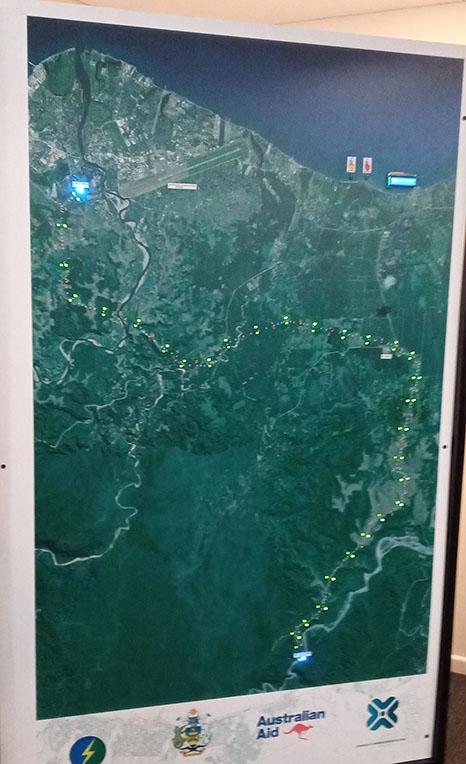 The funding of USD$27.4m (about $220m) of which USD$22.7m to be funded under Australian Infrastructure Financing Facility for the Pacific whilst Solomon Islands Electricity Authority trading as Solomon Power the remaining USD$4.7m.
The funding will enable the construction of the Transmission system which will supply electricity from the Tina River to the SIEA grid or distribution Centre at Lungga.
Prime Minister Manasseh Sogavare describes today's singing ceremony as a milestone that takes one step closer to realizing the benefits that Tina Hydro Project will bring to the country.
Sogavare says whist the Tina project is a larger undertaking with many partners, today "we are focusing on the further strengthening of the bond between Solomon Islands and Australia."
In that regard, Sogavare has expressed his appreciation to the government and people of Australia for their support.
Australia's funding support comes in two components, of grant and loan.
The Permanent Secretary of the Ministry of Finance McKinnie Dentana told SBMOnline that of the of the USD$22.7m funding from Australia, USD$10.6 is a loan of which the repayment rate is 2.91% over 24 years – and a grace period of four years.
Sogavare said the funding will go towards an important component of the project so that it can deliver the stated benefits to the people of Solomon Islands.
Australian High Commissioner to Solomon Islands Dr Lachlan Strahan said that Australia has been a partner at the beginning and has provided $180m during the preparatory phase.
He said the project promises to deliver a different future to the people of Solomon Islands.
Strahan has also revealed that it is the largest ever climate financing project that Australia has financed in the Pacific.
"It's a testimony to the role that Solomon Islands is playing in boosting renewable energy and addressing climate change," he said.
Chairman of Solomon Power David Quan has also commended Australia for their support and applaud the CEO of Solomon Power Donald Kiriau for his leadership.
The project is expected to be completed in 2024.
Facebook Comments