Impressive young professionals play key roles at Health Laboratory
Impressive is probably an understatement—but seeing young professionals take leading roles at the National Public Health Laboratory (NPHL) at Kukum brings smiles to the Minister of Health Dr Culwick Togamana and his colleague of Foreign Affairs, Jeremiah Manele.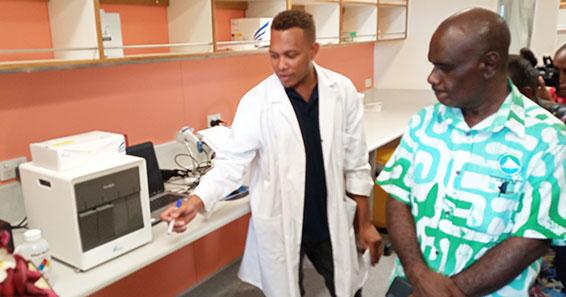 Dr. Togamana, a doctorate in the field of science, was asking inquisitive questions and he got solid responses from the officers. He could only nod his head in approval.
Visiting the NPHL after a ground breaking ceremony to build an office for the workers there today, Tongamana and Manele toured the lab where they were given first hand information into its operation.
Not many people have known about the work of NPHL but it is a critical institution that carries out testing and analysis of agricultural and other products before exporting or for local consumption. With food crops like cassava and taro primed for large scale exports in the near future— NPHL will play a massive role in meeting exporting standards especially those required by the receiving countries. Currently tuna product samples for export to the lucrative European Union market are tested in the lab.
In Honiara, Solomon Water's sources are regularly tested to guarantee they are safe for the public. Likewise, the bottled waters are tested frequently.
COVID-19 too will soon be tested in the lab. Shortly all departing overseas passengers will have their COVID-19 tests at the lab before they board the plane.
And the young professional that looks after the proposed COVID-19 lab is Vincent Suriga. A science graduate, Vincent manages the lab along with his seniors.
"So far no COVID-19 tests have been done here but we are prepared for it," he told the ministers.
Minister of Health Dr Togamana said they wanted to build the capacity at the NPHL to complement the molecular lab at the National Referral Hospital.
A geneXpert machine has been mounted in the lab with additional devices on the way.
Next to Suriga is another young qualified Solomon Islander, Oliver Lukos, a lab technologist who works in the Chemistry laboratory.
Amongst the things he's doing is testing products before they are exported. He mentioned the popular Soltuna products as those on the list he's working on and once cassava and taro are exported that will be added to his directory of responsibility.
"Once cassava and taro are exported this is where we going to test them," he says whilst pointing to the machine that will be used for the tests.
Asked what they are testing for in cassava, he said cyanide.
Senior chemist David Ho'ota explains that in the case of Australia they want cassava that is less than 50 PPM (parts per million). To put it simple, he explains that the sweet cassava planted on Guadalcanal is less than 50 PPM – adding if it is bitter then it is higher (more than 50 PPM) in cyanide.
Meanwhile the NPHL is an accredited lab and once the stamp of approval is given here export products don't have to go through the process again at the market destination.
At the end lab is another impressive Solomon Islander Jacelyn Parsad, a microbiologist, who ensures that Solomon Water is tested regularly to meet approved standard as well as the bottled water companies comply with health standards.
She explains that in the lab where she is working with her senior colleague Kim Iro they are responsible for food and water.
Jacelyn told the ministers that food samples to the quarantine centres are tested first before they are dispatched. She's also responsible for restaurants and food outlets around the city and they test them mostly for E.coli— which is a bacteria. For water, they are tested for contamination and check whether the process meets good hygiene standards according to WHO guidelines.
Impressive? Yes, that's according to one of the officials.
The NPHL is headed by Dickson Manongi who is currently on compassionate leave.
[email protected]BMOnline2021
Facebook Comments