Solomon Ports this week has commenced its rollout of the 3 'R's campaign around schools in the capital City of Honiara.
This week SIPA staff visited two schools in West Honiara, which are St John Secondary School and Tamlan Community High school.
SIPA Staff who visited the two schools, carried out awareness on the importance of the campaign and what schools or students should do the assist in the promotion of proper waste management in their schools and homes.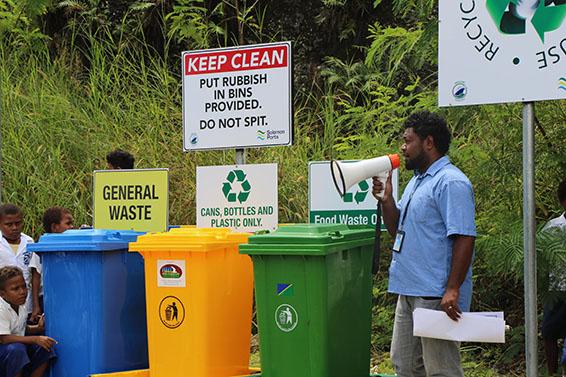 A total of six schools around Honiara had already been equipped and provided with bins, concrete platforms and 3 'r's signboards.
Students took time of their classes to learn about the campaign, especially on how to properly dispose rubbish in the right bins and participate as well.
Teachers were also part of the awareness activities, where brief handover events were also conducted to formally hand over the equipment's to the schools.
Speaking during the handover ceremony, St. John Principal Mr. Peter Misiga said the initiative and campaign was a huge boost to his school's effort to combat waste management issues in the school.
He said the campaign also complimented their school's ongoing work and efforts to keep their compound and classroom building clean and more hygienic.
"On behalf of the school, we wish to thank SIPA for carrying out this important initiative, and we wish we extend our appreciation to the management of SIPA for providing these materials and
equipment's to our school," he said.
Waste management is indeed an issue for Solomon Islands, and it is the hope and aim of this campaign, is to promote proper waste management habits.
We are extending this initiative to the schools with the hope of instilling knowledge on how to properly throw away rubbish to our next generation, to ensure our city and country is clean and more hygienic in the future.
SIPA staff will be visiting more of the schools in the coming months to carry out awareness on this topic and will be extending the campaign to our provinces as well.
ENDS//
Facebook Comments